Hey Hunters, We hope you are doing good! We also expect that you have read the latest chapter 107 from official sites (if possible). So, as you know the manga debuted four great characters including two national hunters and two great monsters. Also In the previous article, we mentioned what happened when Sung went to the Association. Now in continuation with that let's begin.
Solo Leveling Chapter 108 spoilers –
Sung Jin-Woo: the hero:
"Let us escort you back home, Seong Jin-Woo Hunter-nim."
That's why Jin-Woo declined the offer.
"Thank you, but I'll be fine."
However, Goh Gun-Hui shook his head and insisted on it.
"I believe that… it'll be more convenient for you to get a ride home."
"What do you mean by that….?"
Goh Gun-Hui approached the window and spoke to him.
"Could you please come over this way?"
Jin-Woo also walked over to the window, and that's when he saw it.
….Outside the window.
"All these people came here to see you, Seong Jin-Woo Hunter-nim. They have heard that you came for a visit to the Association."
A flood of emotions welled up inside Jin-Woo as he stared at all these people.
Goh Gun-Hui also stared at the crowd in silence for a while, before he calmly opened his mouth.
"I'm sure that you're aware of it by now… Our countrymen had been thirsting for a victory."
South Korea became the sole nation on Earth who lost a part of their land to monsters after a catastrophic dungeon break occurred on Jeju Island four years ago.
Many countries outwardly expressed their solidarity but inwardly, they were mocking the Korean Hunters for their uselessness. By the time the third subjugation operation ended in failure, that sentiment reached its peak.
And in the forth subjugation finally, they conquered which not even the might Japanese were able to.
" I believe that you should go downstairs in consideration of the crowd. Because of the people… need a hero, you see."
Jin-Woo pushed open the glass door and exited from the Association building. All chaos suddenly died down right away.
Everyone gathered here kept their mouths closed and quietly stared at Jin-Woo.
"…."
No, the citizens simply stared at him in silence while feeling a certain boiling something well up from deep within their chests.
Jin-Woo quietly stared back at them as well. Just as the heavy silence descended between him and the citizens….
"Hunter-nim, please. This way."
Woo Jin-Cheol was now tasked with guiding Jin-Woo, and he faithfully carried out his duty.
The agents of the Monitoring Division went ahead and created a path forward while asking the crowd for their understanding; citizens moved aside without any complaints whatsoever.
However, there was a sole exception.
A grandpa walked in front of Jin-Woo when there wasn't that much distance left to the waiting car.
"Hunter-nim…."
One of the Monitoring Division's agents tried to stop the grandpa, but he hesitated somewhat after seeing the tear-soaked face of the old man before he had to take a step back. Because, Jin-Woo held the agent back, that's why.
The grandpa was finally able to stand before Jin-Woo. Thick tears streamed down his face and he called out to the young Hunter in a choked-up voice.
"Hunter-nim…. Thanks to you… My son, he can close his eyes and rest now."
The grandpa faltered as strength left his legs. Jin-Woo quickly supported him before he fell.
The grandpa held on to Jin-Woo's hands and arms and kept bowing his head over and over again.
Woo Jin-Cheol helped with assisting the grandpa and then entrusted the still-crying old man to his subordinate. He leaned in closer and whispered to Jin-Woo.
"Hunter-nim. The crowd is getting larger. Perhaps we should get going…."
Jin-Woo nodded his head. Woo Jin-Cheol opened the car's rear door and held it there.
Jin-Woo took one last look at the crowd before climbing into the car.
It was unknown who started it first.
Someone within the crowd quickly lowered his head as soon as meeting Jin-Woo's gaze as a sign of a thank you, but then, everyone followed suit and did the same. Greetings filled with genuine appreciation came back to him wherever his eyes swept by.
"…..Hunter-nim."
Without saying a word, Jin-Woo gazed outside the window.
The crowd kept looking at the car right up until it could no longer be seen.
He leaned back on the seat and placed his hand on his pounding chest.
Ba-dump, ba-dump, ba-dump….
His heart was beating fast as the wonderful sense of accomplishment filled him up.
He initially felt at a loss when the Association President suggested that he should meet with the crowd. But now, he was glad that he didn't just walk past them.
It felt like every single gaze he met were his reward for a job well done.
It was then….
"Ah!"
Woo Jin-Cheol hurriedly looked behind him after Jin-Woo inadvertently cried out.
"Did something happen, Hunter-nim??"
"….No, it's nothing important."
Jin-Woo remembered only now that he broke the TV without an explanation, just so he could reduce the shock his mom might feel. He helplessly massaged his forehead.
'Just how am I supposed to explain all this?'
Sure enough….
He switched his phone back on to find 13 missed calls from home.
Not to say less, Sung Jin-Woo definitely became the greatest hero for Korea. While Jin Woo wanted to go home, chairman Go wanted to escort him. Jin Woo declined but after he looked across the window down in the streets. A huge crowd was waiting for him. Emotions boiled inside Jin Woo and he faced the crowd. People of all ages looked at him with respect. Remember the grandpa? Yeah, the one who lost his son. He was moved with tears as he moved towards Jin-Woo. Jin Woo as a man did what's best he could do. After this chairman's bodyguards escorted him. While going home Jin Woo is again shaken by the crowd as they pay him respects. And finally, he remembers that he broke the T.V. Even Jin Woo is, after all, a "normal" human.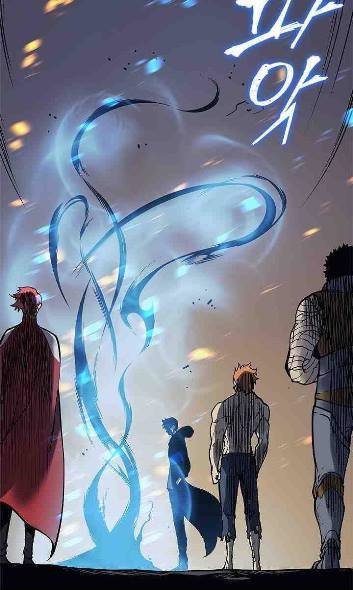 Goh Gun-Hui morphs contents for Jin Woo:
It was pandemonium in online forums, too. But, that was to be expected.
The Jeju Island subjugation raid was the very first-time Jin-Woo made his public appearance, ever since getting his rank S license. It was the same thing as him making his public debut.
Articles were like these…
└ But, hold up…. If Seong Jin-Woo participated in the raid from the get-go, Min Byung-Gu wouldn't have died, right?
└ He wanted to be left out in the beginning, so why did he show up in the middle?
└ Looks like guys above mine haven't seen the article put up by the Association explaining themselves yet.
└ What article? Links, please.
The contents of the article went like this.
Even though he was ranked S, Jin-Woo lacked experience in entering high-ranked dungeons. Therefore, the Association chose to keep him in reserve nearby in case of an emergency, instead of making him join the raid team from the beginning. Once the situation became dire, they decided to insert him right away.
It was a hastily-cooked up story, but it proved to be enough to convince the masses.
'This is the best I can do for Hunter Seong Jin-Woo.'
Goh Gun-Hui's quick response was able to stop the sharp arrows of criticism from pointing at Jin-Woo, while also managing to keep the latter's private affairs out of public limelight.
Thanks to that, some people denounced the inability of the Association to properly gauge the capabilities of their own Hunters, but no one pointed the fingers of blame in Jin-Woo's direction.
No, Jin-Woo's acclaim only rose even further in the eyes of the public.
The situation was at its worst point, with the Japanese team tasked with buying time having withdrawn from the island and the Korean team facing certain annihilation. Yet, he didn't complain once and jumped into the ant tunnel all alone.
└ I wouldn't have been able to go in there, even if someone pushed me from the back, 'cuz I'd get scared sh*tless. Other rank S Hunters were getting massacred in there, so why should I?
└ Agreed.
└ What did he think about when he entered there?
└ Shouldn't Seong Jin-Woo be the true role model of all the Hunters out there?
└ Shouldn't those idiots slag off Seong Jin-Woo for not participating beg for his forgiveness right about now?
└ LOLOLOL That's why you shouldn't yap on like that when you don't know anything.
Jin-Woo was fast becoming the most famous Hunter in South Korea, much to his fluster. Even though he had requested for the protection of his private information early on, his fame continued to soar higher.
Then we see, Chairman Goh, doing his best to move the Korean crowd with a plausible explanation. In the online forum, he said even though Sung was ranked S, he lacked experience in entering high-ranked dungeons. Therefore, the Association chose to keep him in reserve nearby in case of an emergency, instead of making him join the raid team from the beginning. Once the situation became dire, they decided to insert him right away. And thus saving Jin Woo some face. In the end, only he knew that this man did everything for his mom.
Sung Jin Woo and the key:
Late at night.
Jin Woo busy checking all his new toys…
What about the longsword's specs?
[Item: Demon King's Longsword]
Rarity: S
Type: Longsword
Attack: +350
A longsword containing the power of the Demon King, Baran. Swinging the sword will activate the effect, 'Tempest of White Flames'.
Effect 'Tempest of White Flames': Summons a persistent thunderstorm within the designated area.
'……'
The hours were getting late; but then, you'd still wake up from your sleep in sheer fright when a lightning strikes in the room next to yours, now wouldn't you?
He didn't want to shock his mother any more than he had already. So, he cautiously put the sword down.
'Well, what a relief it was, at least.'
Indeed, it was a relief that his mother didn't object to his decision.
That day, Jin-Woo explained everything that happened to him to his mother, minus the stuff about the System, of course.
He told her that, he coincidentally went through a Re-Awakening and became a rank S Hunter, and that he'd like to continue working as one in the future, too.
Mom was worried about him but eventually, decided to support her son all the way.
– Mom wants to see you do what you want with your life, my son.
The sole condition his mom put forward was that he was forbidden from pushing himself too far.
'But, well, if I'm in a situation where I have to push myself to that extent, then….'
Jin-Woo shook his head since his imagination was about to take him to a pretty dark and horrifying place.
It was then, he abruptly remembered something else his mom told him.
Mom added that she had never heard of someone else's voice before and after that day, as well.
'I guess Mom still hasn't gotten over Dad yet.'
Even then, his mother didn't try to stop her only son from being a Hunter. It was proof that she trusted him. Jin-Woo didn't plan on betraying that trust any time soon.
Survival.
That had always been his priority, his end goal.
He only got to this place precisely because he didn't give up and struggled right till the end during one of the most dangerous moments in his life.
'….Alright.'
Now that his biggest worry, his mom said no, had been addressed, there was nothing stopping him from entering dungeons now. He'd establish his own Guild, monopolize high-ranked dungeons and quickly raise his levels even higher.
Jin-Woo's heart began beating faster and faster.
'Well, now I have a different reason to raise my levels, don't I?'
Shururuk….
Igris revealed himself after Jin-Woo called him out.
This guy had been with him for the longest time out of all his soldiers.
'Not only that….'
He was also the lone Knight-grade soldier the System gifted him with.
In other words, one could say that Igris was the closest to the System out of all his soldiers currently.
"I'm sure you'll be able to talk once your grade goes up, right?"
Jin-Woo had so many things he wanted to ask Igris. Of course, he couldn't hear any answers from his trusty knight yet.
"…"
Igris replied with silence, as usual.
Jin-Woo smirked to himself and scratched the side of his head. He then carefully picked up the Demon King's weapons to store them back in his Inventory.
'Inventory….?'
But then, Jin-Woo's eyes caught a flash of light being reflected off an object.
'….What was that?'
Jin-Woo's eyes opened wider.
An item was gleaming brightly inside his Inventory.
The mystery item was a black key.
The key he found inside the 'Cursed' Random Box was shining brightly as if to remind him of where it had been hiding all along.
Jin-Woo stared somewhat dazedly at that arresting sight before he cautiously put the weapons in his arms down on the floor again. He then reached into the Inventory and tightly grasped the black key.
'…….'
And, when he opened his hand again….
[Item: Key to the Karutenon Temple]
Jin Woo sure did get great rewards from the demon castle. And while checking them up he came across a longsword having a special AOE (Area of effect damage). He chuckled thinking how Baran was able to slash away his soldiers. He had also talked with his mom regarding him being a hunter to which she approved and she also mentions that while in the hospital she heard the voice of Sung Il Hwan(Jin Woo's father). Well, this guy is definitely getting on our nerves. What powers does he hold? And are they related to the system? We will be finding out soon. Then while scrutinizing his inventory Jin Woo came across a black key mentioning Karutenon temple.
The Dual Dungeon Memories still troubles him:
Rarity: ??
Type: Key
'You have met the required condition.'
A key allowing you entry into the Karutenon Temple. It can be used at the designated Gate.
The location of the designated Gate will be revealed after the predetermined time has been reached.
Remaining time: 417:06:52
'….Karutenon Temple?'
Jin-Woo began tilting his head in confusion.
What was going on here? He was pretty certain that he had never heard of that name before. So how come it sounded so familiar to him?
'No, hold on. I…. have heard of it before.'
He carefully combed through the maze of his memories until he finally recalled what he was searching for, and his brows shot up in response.
'The dual dungeon!!'
More specifically, that name was etched on a stone tablet held by a statue, found in the ancient temple located right at the end of the dual dungeon.
The memories of that fateful day were coming back to him one by one.
'Right, definitely….'
The voice of Song Chi-Yeol ahjussi, as he read the first line of that stone tablet, suddenly rang so vividly around in his ears.
["The laws of the Karutenon Temple."]
Indeed, that stone tablet's texts indicated that the name of the temple filled with those terrifying statues was none other than 'Karutenon'.
It couldn't have been a simple coincidence that the name carved into that stone tablet, and the name of the temple in the key's information, was exactly the same.
Which could mean…..
'I can go back inside that place with this key?!'
Jin-Woo's eyes grew wider in stunned silence.
The memories of that day, indistinct and hard to recall as if they were enveloped in a veil of fog, suddenly returned to him in their full, gory detail.
'Could it be….?'
No, this was no longer in the category of 'Could it be' anymore. The System was definitely summoning him – summoning him back to the place where it all began.
The key that emitted the bright light all on its own, perhaps fearing the distinct possibility of him never bothering to read its information; and then, there was the name of the location where this key was supposed to be used, written so clearly that he'd never miss it.
No matter how he tried to slice it, there was little doubt that the System was summoning him there.
Oddly enough, Jin-Woo was getting curious about something else as well. Why was this happening now, of all times?
'Is it somehow related to the quests I received from the Demon's Castle?'
This black key, and the 'Cursed' Random Box it came from, was the 'unknown reward' he chose to receive at the end of the 'Collect the Souls of Demons! (1)' quest.
Hoping that maybe there was a connection here, he quickly checked the 'unknown reward' he got from the 'Collect the Souls of Demons! (2)' quest.
'Title.'
Along with the familiar "Tti-ring!" of the mechanical beep, the information regarding his new title, the one he got as the reward, rose up to his view.
[Title: Demon Hunter]
'You have not satisfied its conditions.'
He hoped that something might have changed, but well, too bad; it was the exact same story as the first time he received that Title.
'Okay, so that one wasn't it.'
Next up, he began reading the item descriptions of the Demon Sovereign's Accessory set, which he got to complete after killing the Demon King, Baran.
[Item: Demon Sovereign's Ring]
Rarity: S
Type: Accessory
Perception +20. Intelligence +20.
When worn together with 'Demon Sovereign's Earrings' and 'Demon Sovereign's Necklace', set bonuses will be unlocked.
Set bonus effect 1. All Stats +5
Set bonus effect 2. All Stats +10
He took a closer look at the information provided, wondering if another, hidden, set effect had been unlocked, but that wasn't it, either.
'In that case….'
There was only one other possibility remaining now, and Jin-Woo shifted his gaze towards the information appearing above his Title column, towards the final suspect.
[Name: Seong Jin-Woo]
[Level: 100]
[Class: Shadow Sovereign]
[Title:…..]
Out of all of those, his gaze stopped moving at his level.
There it was, his level '100', the one he just barely got to reach after massacring every single ant monster, as well as every egg and larva found on the island of Jeju.
'The condition this key's been talking about has to be this.'
Jin Woo recalled that this temple was none other than the infamous dual dungeon. Did the dual dungeon sounds familiar? Yes, the very first dungeon where Sung Jin-Woo fought until he literally died only to gain the powers of a mysterious system. That dungeon still haunts him as it had the highest tier demon which was laughing at Jin Woo. Chills crept all over his body as he thinks of going back there. Calming himself he looked that he still had nearly 417 hours. The strange fact was the conditions had been met now. Pondering about it Jin Woo came to an explanation that his leveling up to 100 might have done this. He became curious whether the other cursed box also holds such rewards thus he checked. But nopes, the condition for the title "Demon Hunter" still had not been met.
That's all for today. Stay tuned for more chapters. 
Solo Leveling Chapter 108 Release Date –
It is expected that the chapter would release by 4th March. Also, we would be glad to hear your theories down below in the comments.
Where to read Solo Leveling Chapter 108 –
You can read from jaiminisbox.com as preferred by the subreddit. Do support the artists for all the hard work they are doing to entertain us.