Since the game was announced in September 2019 at the Tokyo Game Show, Book of Travels has managed to garner a lot of attention from the players and critics all around the world. And this has happened thanks to its new kind of idea. The game has all role-playing stuff with elements of online multiplayer, but it is far from something to be called an MMORPG. In fact, the developers' Might and Delight have called their game a "Tiny Multiplayer Online Role-playing Game". Yeah, this is something new for everything.
Book of Travels basically is a social RPG that has no main objectives or tasks and lets the players create their own adventures. It is more focused on RPG, exploring, discovery and enjoyment than on statistics, numbers or missions.
The game lets players play in a 3D world with 2D assets. But the best part is that each and everything in the game is hand-painted. So you will get a feel of travelling through a still painting!
We at Digi Statement have tried to bring for you almost everything you need to know before playing the game –
BOOK OF TRAVELS RELEASE DATE AND PLATFORMS
Book of Travels has not got an official release date yet and we are excited just like you to get our hands on it. But the good fact is that the game has been released as early access on October 11th 2021 on various platforms like Steam.
The early access for the game was scheduled to be held in October 2020. But it was then postponed till August 2021. The early access date was again set somewhere in September, but the closed beta released in between made the developers change the release date yet again.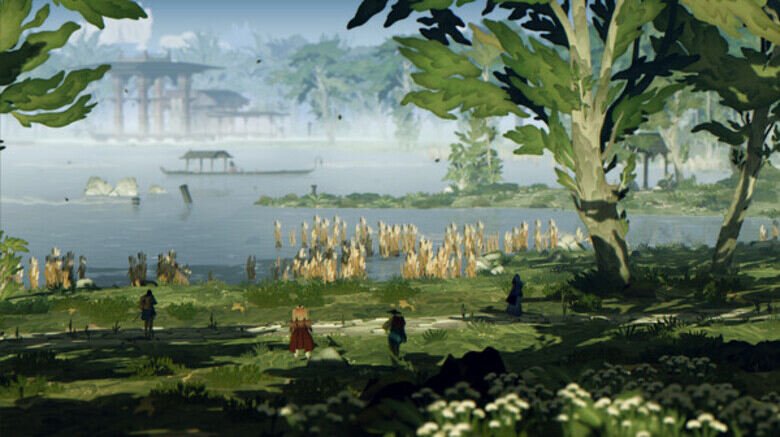 The early access has finally been released on October 11th. Players can now experience all that the game has to offer, though not completely.
The game will release exclusively for PC, Mac and Linux. Since it is a point and clicks game, you will need a mouse to play, so the platforms are limited. Coming to the release of the game on consoles like PS4, PS5, Xbox One, Xbox Series X|S and Nintendo Switch, the devs have no such plans as of now. But possibilities are endless! So we can see the game as a console edition anytime, sooner or later!
BOOK OF TRAVELS AS TINY MULTIPLAYER ONLINE
Yeah, the devs have called this game a tiny online multiplayer game. Book of Travels limits the number of players on each server, just to "make each meeting memorable when players cross paths!" The servers of the game will have far fewer players as compared to other MMORPGs to give a smoother experience.
Players can still choose to explore the land of Braided Shore alone or in groups. They can use vehicles available to travel to far places but crossing the exciting woods together is a recommended option! There are no guilds or any social structures. So your temporary fellowship is now more exciting and unique!
One of the most highlighted factors of the game is its communication system. Book of Travels has its communication entirely non-textual and verbal to create a richer, friendlier experience for the players. So you will have to rely on verbal communication or the limited set of emotes which can be gained through player experience.
Follow Digi Statement for more updates regarding Book of Travels!