As we all know that the pandemic has not only affected the health and lifestyle of people but also heavily damaged every running business and economy. Many small businesses have shut down and a large number of people are unemployed due to Covid-19. This phenomenon is applicable on esports too, which has also taken a toll as the events which were supposed to happen in presence of thousands of people were happening from home and were streamed online. The North American region of the famous first-person shooter Counter-Strike: Global Offensive has been massively under the radar of destruction as there are not many tier 1 teams which made the prize money of the tournaments played by tier 1 feel like " bits & pieces" ( Hello Spunj) for them and there weren't enough competitive names as we saw that only 2-4 teams were lifting titles or making their way to the playoffs.
You might be thinking how did this thought become such a mainstream observation and the internet was flooded with theories which were against and in favour of this theory. Some major thought-provoking actions are as follows:-
100 Thieves Disbanding their Csgo Roster
On October 12th last month, the founder and Ceo of 100 Thieves "Nadeshot" made a video message and posted it on all the various social media platforms announcing that they have abandoned their current roster as the whole Counter-Strike: Global Offensive scene is shifting towards Europe and becoming centric to it. If an organisation like 100 thieves has to take such a major step and completely remove a famous genre of esports from their company, something is definitely wrong.
Controversial Tweet By Tarik
Following the announcement of 100 Thieves, the topic became more mainstream and a major winning professional reacted to it on his Twitter. He said:-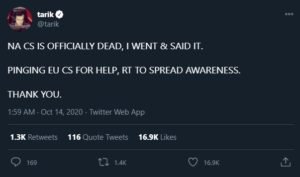 After this tweet, a small controversy was sparked where people said that CS scene is so dead in North America that Professional players, as well as organizations, are preferring Valorant over CS.
Stay tuned with us for more updates on CSGO and various other games. Till then, Happy Gaming!!