Back Market is an e-commerce website and a well-known marketplace of refurbished devices. If you are not aware of the term 'refurbished', let me tell you that a refurbished device is a pre-owned device that is been sent back by the users because of some problems. The device is then repaired for resale. It also means those devices that are returned by customers who change their mind in order to prefer a better device. Before being sold, refurbished devices are properly checked and tested to ensure that they are in working order.
At Back Market, refurbished devices are checked and restored by experts. The devices are guaranteed to be 100% functional. In terms of aesthetic appearance, you can decide if you want something that looks completely pristine or you wish to pay less for something that shows a little more wear.
In order to get the Back Label and sell on their platform, every new seller answers a questionnaire related to their operations and quality procedure and is asked to provide proof about the same. The site asks its customers to provide detailed feedback and along with that, the site's in-house experts do anonymous orders every week for verifying the quality of the sellers' products.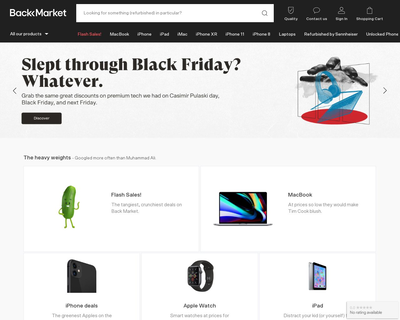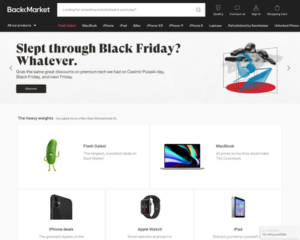 Back Market has many refurbished products in various categories but when it comes to user reviews, the reactions have been mixed. Some people are happy with the service of the website and some are not.
A user said that he noticed a refurbisher named Biomac who sells MacBooks. The refurbisher was posting fake reviews about himself. When the user complained Back Market about this, they did nothing to stop the seller from scamming customers. Another user said that he ordered a Sony RS100-VII from Backmarket.com. But the product that was delivered to him was an RX100-II with lower specs and an old model. The vendor refused to replace his product and he returned the product but did not receive his refund even after 7 business days.
But there are also some customers who have provided positive feedback about the website. A user said that he ordered a MacBook Air and the product delivered to him was brand new. Another user said that he was satisfied with the MacBook Pro he ordered from Back Market. He mentioned that there were no scratches and it was delivered with an original charger in a box well packaged and protected.
There are other popular and well-known websites over the internet in comparison to Back Market that sells refurbished products to customers at a cheap and affordable price. The quality of the products on those websites is also considered as the best and better. So, for now, my suggestion for all of you will be to prefer other websites instead of Back Market.