Adorama is a camera, electronics and film equipment retailer. Adorama was launched in the year 1974. Along with online shopping websites, Adorama also has a huge multi-floor Chelsea store located at 42 West, 18th Street, New York City, New York. It has collaborated with many partners over the years for their services and brand. It later became an official electronics retailer for professional American football team, the New York Giants in the year 2011 and provided exclusive promotions of products to fans in every Giants game in the NFL. Adorama also had a good media presence since it was shown at the Giants.com homepage, their social networking websites, TV and radio and inside the stadium.
Adorama also partnered with Tinkerine, which is a 3D printing company from Vancouver and their complete suite of products were made available on Adorama's website. Tinkerine U, a 3D printing education platform of Tinkerine, was integrated within Adorama Learning Center hoping that both companies would expand their reach from a manufacturing as well as educational standpoint. It was also a sponsor of the Adorama Live Theater, a live performance studio at CBS Radio New York's Hudson Square broadcast facility in November 2015. Adorama also hosted the premiere of phtographer Chris Burkard's documentary film called 'Under An Arctic Sky' in the year 2017 at the AMC Empire Theatre.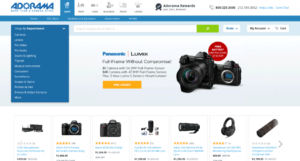 Now many people must be wondering if Adorama is legit or not. Users have expressed different opinion and experiences in relation to this. A user said that he was looking for a G7 at a price of $399 and the original price was $497. He called the customer care and asked if he could buy it in the previous price and surprisingly, he was allowed. A user has also claimed that it is the safest place to order a camera. Also, he mentioned that the only thing to watch out for with them is that they are staffed mostly by Hasidic Jews and they adhere to the complete Jewish holiday/religious calendar. There are blocks in a year where both the stores remain closed and cannot process orders.
One user said that the shipping is too slow and another one said that he ordered three items among which two were sold as new but were actually used items. A user has mentioned that he has used Adorama for camera gear for many years and they have been excellent. He has also said regarding the customer service that they resolve problems very quickly. If we look at the reviews, there have been very less negative things about Adorama.
You can choose Adorama if you want to purchase your favorite camera and electronics because most people have claimed that it is reliable but still you can prefer other popular websites and compare with Adorama before you decide to proceed with the purchase.