New World Interactive's multiplayer tactical first person shooter, Insurgency Sandstorm is a game praised in the community for its realism, harsh difficulty, levels and gameplay. Due to insane amount of mod support, Insurgency Sandstorm has a very active community, no surprise for a franchise that started off as a mod for Valve's Source engine. Very recently a new update for the game was announced for the near future and today we are going to take a look at all we know about it.
Yesterday on twitter, an announcement was made via the Insurgency Game twitter handle regarding the new Update 1.7, called 'Operation Nightfall'. The Devs said that this would be "One of the best update ever!" and they would be constantly releasing more information over the coming weeks, so fans of the game should make sure they follow all their social media accounts for updates.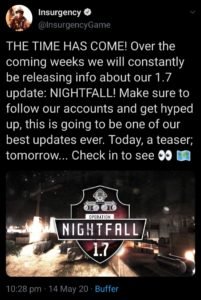 In a tweet that came out on April 24, the Devs gave the players a teaser for the Operation Nightfall, showcasing a map with a day and night cycle. Since then fans were hooked up with the idea of being able to use night vision goggles, flashlights and infrared sights to navigate around the map and shoot up people. Bravo six going da…okay wrong game.
Amidst all the wait for the console releases of the game scheduled for August 25 this year, players are now hyped for Operation Nightfall as well, expressing their excitement on social media and Insurgency's twitter comment sections. Fans have begin to make conjectures for the features this new update might bring for them.
On the Steam Community page of Insurgency Sandstorm, the Devs announced a live stream in line for May 20th at 2:00 p.m MST. On the stream, they would be playing community made maps, the suggestions for which you can drop on their Steam Community page. After that, at around 3:00 pm MST, they have planned for the first official Update 1.7 reveal!
Lead Design Director, Jeroen van Werkhoven and Lead Game Designer, Micheal Tsarouhas will be providing the fans with a map walkthrough with commentary along with their insight behind the making of the map. They will proceed to dropping the official name of this new map, which they say is "not what you think". The stream will go live on Wednesday, May 20 on the Insurgency Twitch account so fans be sure to check that out.
We would be covering more Insurgency Sandstorm : Operation Nightfall related updates as they get released so also be sure to pay us a visit every so often.