Dead by Daylight is a great addition to your list, especially when horror is your forte. The game has got a multiplayer video game mode for five players. Currently, it still remains to be a popular multiplayer game with a huge player base. In the isometric multiplayer game, you would be seeing a 1v4 system. Four players would be facing one villain, dangerously roaming around the map. You would be on a map, and face various forms of villains who have got a different range of skills and attributes. As the player, you would need to play and cooperate with the other four. The villain would try to hunt you down before you complete your objectives, for winning the game. Therefore, cooperation plays a big role in this multiplayer horror game to escape from the jaws of death, for victory.
With a popular fanbase, the multiplayer game developers have often raised the question about the presence of a voice chat. Unfortunately, you would not be able to find a voice chat in the game. The in-game interface provides a chatting service. But many people opt for voice chat for playing multiplayer games. Will you get to see the voice chat feature soon in Dead by Daylight? This is what the developers had to say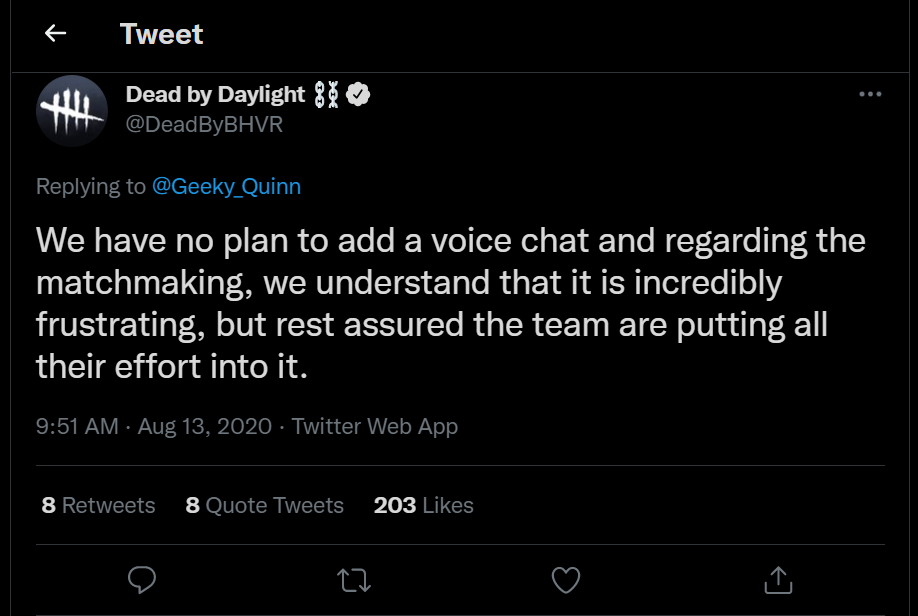 But are there any ways you can go for voice chat while playing Dead by Daylight? Find out the answer by reading the article.
Dead by Daylight: Voice Chat with Discord
Discord has been a popular software, that has been able to provide an enhanced communication platform. With the help of Discord, you can connect with your friends and join a voice chat. The voice chat interface of Discord delivers high-quality communication via voice amongst people. How can you use voice chat in Discord for Dead by Daylight?
First, add your friends to Discord. If you want to share your Discord ID for friend requests, simply go to the bottom left corner where you can see your username and the # numerical code. By bringing the cursor near your username, you would be able to copy your username. For a better voice chat experience with Discord, join or create a server. After you are on the designated server that has got your companions, you will see two forms of channels.
Text Channels
Voice Channels
You would select Voice Channel and select the in-channel category. By clicking the appropriate Voice Channel, you can connect with your friends for Voice Chat. Therefore, connect with your friends using the Discord voice chat, and open Dead by Daylight. This is how you can enjoy a voice chat experience while playing the horror multiplayer game.
Hope this article was able to help you out. Like this, you can also check more content on PC gaming guides, fixed and updates by clicking here.