Vivo is one of those brands that rose to fame in an extremely short time. The brand was very successful in promoting their devices. All the blue boards that you ever find on the roads probably promote the brand and that's Vivo for you. Vivo is owned by BBK Electronics, a Chinese company that is also a parent to Realme, Oppo and OnePlus.
In the recent launches of the Vivo devices, we are getting to see an option named Dual Apps which is equivalent to Clone Apps. This app lets users access one app/ single app using two different accounts. This process takes place by splitting the original apps into two slots, letting us access them with multiple user data.
Vivo V5s is one of those devices that took this feature to a whole new level. The Dual Apps then turned famous and in-demand so here we bring to you the steps to clone apps in Vivo devices.
How to use Dual Apps in Vivo mobiles?
Step 1-
Go to settings in your Vivo device. Look for the "App Clone" option and click the bar.
Step 2-
When you click on the App Clone option, you will find a toggle to "Display the Clone button". Switch this toggle on (towards the right).
Step 3-
Now exit to the Menu where all your apps can be found. Long press the app you want to clone.
Step 4-
When you long-press the app, you will find two options. On the top, you will find a cancel button that will delete the app and on the bottom right, you will find a "+" button.
Step 5-
Click the "+" button and there you go, you will find two icons of the same app.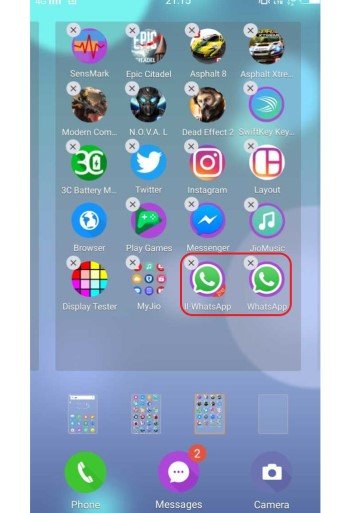 Note: App cloning only works with Social Media Apps like WhatsApp, Facebook, etc. the brand is working on making this feature available on as many apps as possible. Also, note that if you delete one of the apps among the two after cloning, both the apps will be uninstalled/ deleted.
Thank you for reading! Stay tuned receive more updates and related articles.