Area F2 is the first Close-Quarters Battle (AKA CQB) shooting game on mobile. In which players fight over ultra-realistic environments as attacker and defender, playing as one of a wide selection of agents, each with own their special ability. All roofs and walls can be reinforced or destroyed, challenging players' skills and tactics as every wall may become a potential entry point.
Area F2 immediately managed to catch the attention of the mobile-gaming community as it is identical to the renowned online tactical shooter series Rainbow Six in almost every aspect. The game features 5v5 Close-Quarters Battle shooting format, which is the same as in Rainbow 6, along with destructible environment and different agents.
Well, talking about agents, all agents in Area F2 are similar to those appeared in Rainbow Six Siege. And this makes Area F2 a little more interesting, as the fans who have been waiting for the mobile version of Rainbow Six Siege, are finally getting what they have asked for.
Agents in Area F2 are the most interesting part. Each agent is equipped with different weapon sets and special gadgets. That's why the selection of the agent according to the maps and situation is really interesting for sure.
Well, for now, there are 18 agents in Area F2, distributed in the Defender and Attacker side. Players can select any of the agents before the starting of each round in matchmaking. And for now, six agents are available to play and remaining are unlocked which can be only obtained in the special crates, which costs in-game money.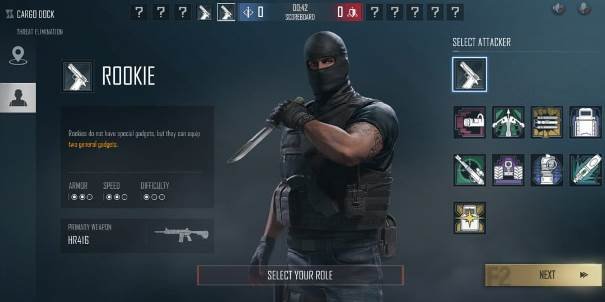 But, there is a way, using which you can unlock all agents in Area F2. And today, we will be telling you, how to get all agents in Area F2. It's doesn't include any kind of hacking or any unethical method, so stay tuned.
How to unlock all Agents in Area F2 –
Area F2 finally has a release date. The official Twitter account of Area F2 announced earlier today that the global release of Area F2 is scheduled for April 30. Creators are celebrating the global launch with a new event in which players can unlock and use all agents available in Area F2.
Excited already? Well, just follow the steps mentioned below to unlock and use all agents in Area F2.
STEP 1 –
First of all, open the Area F2 app. On the home screen, you need to select the Mail button, which can be found at the top-right corner of the screen.
---
STEP 2 –
You will see received gifts in the inbox dated April 28. You need to open all three of them to claim the rewards.
Two of them will unlock agents on the Attackers and Defenders side, whereas, the third one will reward you 1500 in-game coins.
And that's it. This will unlock all agents on both Attackers and Defenders side in Area F2. And you will be able to choose any one of them before the start of each round in matchmaking.
You just have to select the icon to select the operator.
Also, the unlocked operators can only be used only for a week. The global release event rewards can be claimed, starting from today until May 31.
So, what are you waiting for? Go claim rewards now and unlock all agents in Area F2.