The next-gen version of the PS consoles opened up to many enhancement that ranges from performance to improving visual fidelity. To further enhance the experience, tweaking color filter settings can prove to be useful as some games look washed out in both cutscenes and gameplay when playing on the Playstation 5. If you're playing your favorite game and notice that the default color filter looks off-putting, you're in luck as the console comes with a Deep Color Correction feature that allows users to choose the color filter to their liking. Continue reading the article to know how to turn on color filter settings on PS5.
What does changing the Color filter on PS5 do?
If you're playing your favorite game and notice that the reflections are too bright and look odd, changing the color filter can often help you adjust the color scheme and make it look natural. You can see it in games like No Man's Sky where everything looks brighter. If you have some color vision deficiency, turning ON PS5's color filters will make your experience even better.
How to turn on the color filter setting?
If you think that the game's brightness is abnormal and doesn't look natural, changing the color filter in PS5 can help you fix that and is easy to do. Here's how you can turn on color filtering.
Press the PS button and head back to the home screen and at the top, select the "Settings" option.
In the Settings menu, tap on "Accessibility" and in the Display option, select "Color Correction".
Once you've done that, you can toggle "Enable Color Filter" to see which one suits you better, and in Color Filter, you can choose from Red, Blue, Greyscale and Yellow. You can adjust the intensity to your liking and see if you're comfortable with it.
Head back to the game and see if the filter looks good on your game or not. BR games like COD Warzone have a massive effect on the color filter as you can spot enemies easily as the colors are illuminated.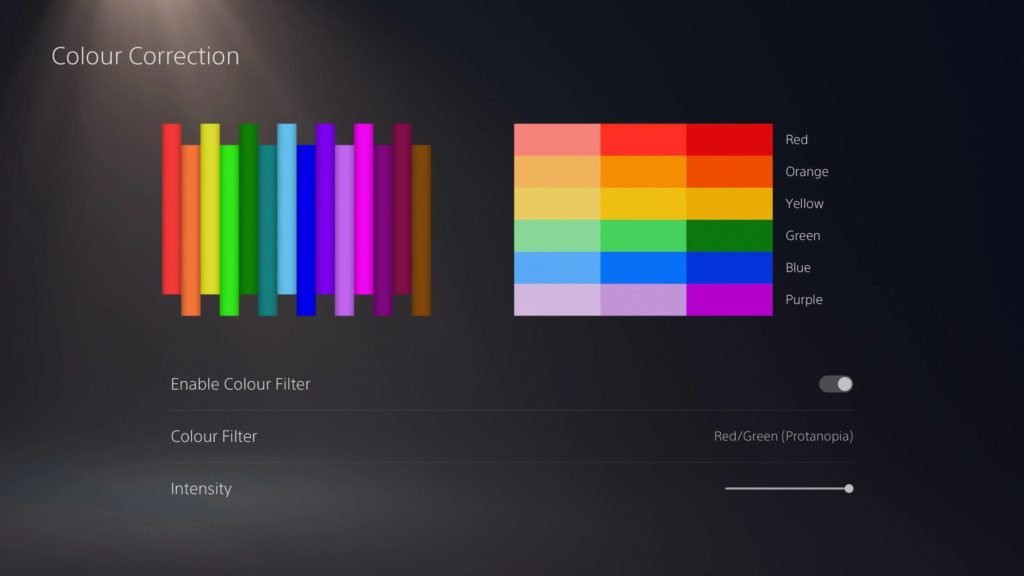 The experience of the game in the different color filters will vary so take your time exploring everything and try out every option available to find the one that suits you better.
We hope that you enjoyed reading this article, stay tuned for more updates about Playstation 5 guides, news, and other stuff at Digistatement.