Players can now redeem the Far Cry 6 Pre-order code if they wish to receive the bonus content bundled with the game during its launch.
Far Cry 6
The Far Cry franchise has redefined the FPS adventure genre games. It's been a decade since the original Far Cry game debuted, and since then, the series has become very successful and popular.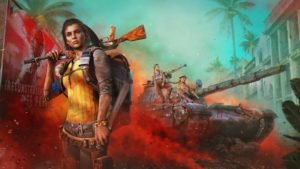 Like all its prior editions, Far Cry 6 is a combat game. Far Cry 6 is set on an entirely fictional Caribbean Island of Yara, falling from the island's beauty to war-time savagery.
Dani Rojas, an army dropout, joins the rebel guerrilla organization to fight the island's dictatorship.
For more information, be sure to check our Previous articles on Far Cry 6.
---
Redeem Far Cry 6 Pre-order Code
All the eager fans out there should note that the Pre-order code can be redeemed only once. So, players should use it carefully. It is also worth noting that the Pre-order code is valid until April 1, 2022. 
For individuals that pre-order Far Cry 6, users get a truly unique skin for the incredibly cute
Chorizo wiener dog
which stole the spotlight. You may even acquire a lethal disc launcher,
Discos Locos.
The pre-order bonus is known as the Libertad Pack.
Players can get their hands on the Far Cry 6 Pre-order code by following the given steps:
Head over to the redemption website.
Log into your account using your Ubisoft account credentials.
Please ensure that you Log into the same Ubisoft account you will be using to play Far Cry 6
Choose the Platform you will be playing on.
Ensure that the Username being displayed is the same as the one you use for playing Far Cry 6
Please enter the code exactly as it is displayed.
Once entered, hit Submit my Code.
Wait for your code to be validated and verified.
A confirmation mail will be sent to the verified email address.
Pre-order Far Cry 6
Players can Pre-order Far Cry 6  from the official Ubisoft website. All they have to do is choose their consoles or medium of downloads like Xbox One, Xbox Series X/S, PlayStation 4, PlayStation5, Stadia, Epic Games, and Ubisoft Connect.
Players also have the option of getting the game on Xbox One or PlayStation 4 game and upgrade the game to Xbox Series X/S or PlayStation 5 variant without giving any additional costs.
Once they are down with that, they need to choose if they want a digital version of the game or the Physical version. Following that they need to decide which edition of the game they want to buy. Once they are through with that, they need to click on Pre-order and it's done!
To make things easier for you, find the Far Cry 6 Pre-Order Link here.
For now, players need to do only the steps mentioned above. When the game is released on October 7, 2021, players will receive another mail confirming that the game is now available to play.
Console players, on the other hand, will be receiving a key. This key can then be used to activate the game on their Platform's respective store.
---
Also Read: