Snapchat is a very well-known multimedia messaging app. It has been created by Snap Inc., also known as Snapchat Inc. It was made by Evan Spiegel, Bobby Murphy and Reggie Brown, who have been former students at Stanford University. Snapchat is popular for representing a new and mobile-first direction in terms of social media. It puts more importance on users interacting with virtual stickers and augmented reality objects. Since December 2020, it has 265 million daily active users and around 4 billion Snaps are sent everyday.
Snapchat has been popular between younger generations and mainly those below the age of 16. This has led to a lot of privacy concerns for parents. The app has also got involved in some controversies. It introduced a feature called Snapcash in 2014. This increased the popularity of the app among adult content creators. The app lets private premium accounts where users can monetize their content. The feature is mainly used by models to monetize the adult content. Snapchat is now slowly becoming an integral part of the online adult content industry.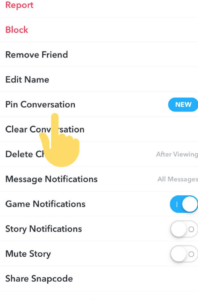 Most of us have a habit of talking with a lot of people. If you are one of them, then you might be in a situation where a lot of people snapchat you. This can make you miss snips from your close friends and the people that matter the most for you. If this is true, then you can simply use the feature of Pin Conversations. Pin Conversations lets you to pin a conversation and makes it easy for you to look at the snaps from your contacts. The pinned conversations will be seen on the top of your Friends screen. Well, the process to use it is very simple and easy. Just follow these steps –
Go to the Friends screen by swiping right from the Camera screen.
Press and hold a friend or a group entry.
A list of options will pop up. Tap on 'Chat Settings' and then on 'Pin Conversation'.
If you wish to unpin a conversation, the steps will be the same. The only difference will be that you have to tap on 'Chat Settings' and then select 'Unpin Conversation'.