After a long wait filled with curiosity, excitement, and leaks, MIUI 12 is finally here. MIUI 12 is now officially on the cards. The much-awaited OS was announced yesterday, 27 April, by Xiaomi. Earlier, the other day, we also saw the MIUI 12 Beta applications for many Xiaomi and Redmi devices. These Beta updates were supposed to be rolled out yesterday night, and by now many users might also have got it. MIUI 12 is getting a lot of love from users. There's no reason why it shouldn't, isn't it? MIUI 12 is a step ahead of the previous versions of MIUI. This is the first Beta build of MIUI 12 which is currently available for more than around 30 Xiaomi devices.
MIUI 12 Beta for Xiaomi devices:
While Xiaomi is already rolling out the Beta version for its devices in China, you can manually download the update and flash it in your device itself. Currently, only around 30 devices are eligible for the MIUI 12 Beta update. If you are wondering whether your device is eligible or not, make sure to check the official list of the eligible devices by Xiaomi. The MIUI 12 Beta comes with the firmware version v20.4.27 and is the first Beta build of the OS.
If you have seen your device making it to the list of eligible devices, you can go ahead and try out MIUI 12 Beta without any more delays. You can download the ROM file manually and flash it on your device. Just by following a few simple steps, you will be rocking MIUI 12 on your device. All this is just a matter of a few minutes and some seriously easy steps. So, without any further delay, follow the guide given below to install MIUI 12 Beta on your Xiaomi device.
[GUIDE] How to install MIUI 12 Beta on your Xiaomi device:
All you need to do is download the Recovery ROM file from the links given below and follow these few simple steps. After all this, you will be good to go with MIUI 12 in your device. Before proceeding with the installation you need to take care of these few things listed here:
Make sure your bootloader is unlocked.
You should have a custom recovery installed on your device. You can install any one like TWRP, Pitchblack, Orangefox, or whichever you want.
Make sure your device is charged to at least 60% before proceeding with the flashing process.
Backup your data is you wish to retain something that is important.
STEP 1 –
Download the MIUI 12 Beta v20.4.27 Recovery ROM file for your Xiaomi device from the list given below. Here are the links to the ROMs of all the eligible devices.
STEP 2 –
After downloading the Recovery ROM for your device, boot into the recovery mode. You can do this by simply holding the power button and the volume up button at the same time. This will take you to the custom recovery installed in your device.
STEP 3 –
Tap on Wipe. Select Cache, System, Data, Dalvik/ART Cache, and other partitions that you want to erase(Don't wipe the partition where you have downloaded the Recovery ROM, you can use a USB drive if you want). You can skip this step if you want to dirty flash the ROM rather than a clean install. However, we suggest you perform a clean install after backing up your data.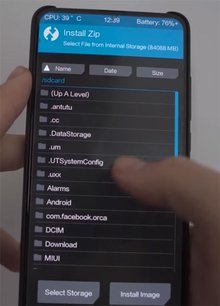 STEP 4 –
Tap Install. Look for the Recovery ROM file which you just downloaded. Swipe to flash the ROM zip file. This will automatically start flashing the MIUI 12 Beta on your Xiaomi device. After successfully installing the ROM, reboot your device.
Voila, that's it. After this, all you need to do is set up your device and start enjoying the features of MIUI 12. Now you finally have MIUI 12 Beta installed on your device. Cheers Peeps!!
Stay tuned for more further updates on MIUI 12 Beta and more such related content. Also, share this article with all those people who have been waiting to install this MIUI 12 Beta update.