Disney+ is a very popular streaming service. It has all the content from The Walt Disney Company along with a wide range of content from Walt Disney Studios, Twentieth Century Fox, Marvel Studios, Pixar, Lucasfilm, National Geographic and others. Disney+ has a lot of TV shows as well as movies. The streaming service is priced at $6.99 per month. Users also get an option to choose the annual plan that has been priced at $69.99 every year. You can also choose to get Disney+, Hulu and ESPN+ together for $12.99 per month.
Disney+ was launched on 12th November 2019. It was released in most of the major markets around the world in just two years. You can watch various original series and original films that premiere occasionally on Disney+. Disney+ depends on technology that has been developed by Disney Streaming Service. It was at first established as BAMTech in 2015 while it was spun off from MLB Advanced Media.
The content library of Disney+ has received a positive response. But Disney+ has also been criticized for the continuous technical issues that don't get solved so easily.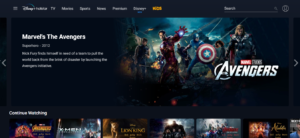 Recently users have reported an issue related to Disney+. Users said that they have been experiencing an error while using Disney+. It is the Error Code 11. The main problem that has occurred because of this error is that users are not able to play certain episodes of TV shows and some movies. Users said that the error has been appearing frequently for many days and weeks. A few users have complained that they are not able to access Disney+ because of Error Code 11.
The error also popped up when users launched the app. Some users said that they were watching some content and suddenly the video paused by itself. After that, when they tried to launch it again, Error Code 11 was being displayed. If you are facing the same issue, there are a few things you can try to fix it –
Try to play the video again. If it doesn't, then exit the app and relaunch it.
Switch off and restart the device you are using.
Sign out of your Disney+ account and sign in again.
Make sure that you are using an updated version of the app.