Capcom created and released Resident Evil Village, a survival horror game. It is a major installment in the Resident Evil series and a narrative sequel to 2017's Resident Evil 7: Biohazard. The game is available on almost all gaming consoles like Windows, PlayStation 4, PlayStation 5, Xbox One, Xbox Series X/S, and Stadia. Resident Evil Village received generally favorable reviews and is being praised for its gameplay, however, it has several bugs enclosed. One of the errors in the game is the Resident evil village Application error. If you are facing this error too and want to fix it, we have it all covered in this blog!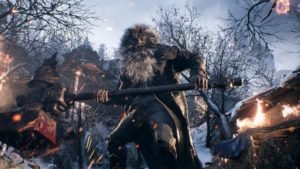 About Resident Evil Village
Resident Evil Village, like its predecessor, Resident Evil 7, is played from the first-person viewpoint. It takes place in a snowy Eastern European village that can be explored. The inventory management system is reminiscent of Resident Evil 4, with a briefcase and the ability to switch and rotate objects for more storage space.
The Duke, a merchant, sells supplies, guns, and other objects to players. In addition, the players can kill animals in the village and have them prepared by the Duke. Eating side dishes gives the player some benefits, such as reducing the amount of damage taken when blocking.
What is the application error in Resident Evil Village?
Many players are experiencing the application error with random crashes of the game. This error could should upon startup or in the middle of the match.
The reason for this error to show up could be due to GPU overheating.
How to fix the application error in Resident Evil Village?
There is no potential patch update for this particular error. However, we do have some fixes which will help you resolve the error.
Method 1 Run as Administrator
Resident Evil Village might not have the right permission; hence the error occurs. To fix that, you just need to launch it as administrator.
Firstly, right-click on the shortcut icon of the game,

Then click on Properties in the Compatibility option, and

Then choose 'Run as administrator' and 'Disable Fullscreen Optimizations' are selected.

Choose  Apply and then press on OK.
Method 2 Verify Integrity of Game Files
To see whether you have properly installed Resident Evil Village, or fix some corrupted or missing files, follow the steps:
First of all, open Steam and go to your Library.

Then find Resident Evil Village and right-click it.

After that, go to Properties, then Local Files.

Then click 'Verify integrity of game files' (the process should not take longer than 30 minutes at most).

Then try to launch the game to see whether that has fixed the issue.
These 2 methods will definitely help you fix the error in your game. If not, you can contact customer support for further assistance.