Forza Horizon 4 is a racing video game set in a fictionalized version of Great Britain, featuring simplified depictions of Edinburgh, the Lake District, Ambleside, and the Cotswolds, as well as Bamburgh. Additionally. the game includes a route editor that allows players to build races with fully customizable routes through multiple maps. It is one of the best racing games published by Microsoft Studios. However, this game has tons of errors and issues. Error code FH201 is one such error of Forza Horizon 4. If you're wondering what this error means and want to fix it. Then, read this blog and check out the details mentioned here.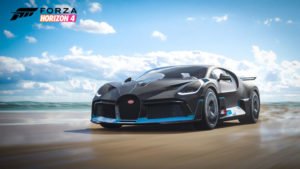 Forza Horizon 4
Playground Games' Forza Horizon is a realistic racing video game that was released in 2018. This game includes a dynamic weather system that adjusts to the seasons. The climate of the game world will change depending on the season: in the winter, for example, Derwentwater will freeze over, allowing players to drive on the ice to enter parts of the game world that would otherwise be inaccessible during all other seasons.
What is Error code FH201 in Forza Horizon 4?
This error basically states that the installation program has found an unsupported graphics processing unit, resulting in this error. (GPU) D3D FEATURE LEVEL 12 0 or higher is needed on the GPU. Some older graphics cards can support DirectX 12, but not the features necessary to play this game.
How to fix Error code FH201 in Forza Horizon 4?
You'll need to update your GPU card to fix this issue. Follow these steps to determine the type of card you have:
Navigate to Start and click on Settings
Then, tap on System.

Scroll to the bottom of the Window tab and then pick Advanced display settings.

Select Show adapter properties at the bottom of the page. The name of the GPU will be displayed in the Adapter Type and the Dedicated Memory will be displayed in the Dedicated Memory.

If your adapter form isn't mentioned below, you'll need to buy a new GPU that works with Forza Horizon 4.
Some of the supported GPUs for this game:
Nvidia 970

Nvidia 980ti

GeForce GTX 750 TI

Radeon R7 250X

Radeon R9 290X