Errors are never fun to have. They are especially frustrating if they occur when you want to play a game. Developers across the world spend countless hours after the release of their games to straighten out these kinks. We at Digistatement understand this very well. In this article, we will look at the display name field missing from the registry of FIFA 21 error, and all you need to know to fix it. Let's dive right in: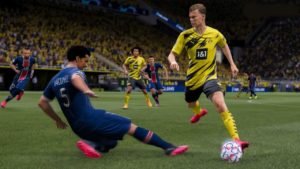 FIFA 21
The FIFA series of games is a long line of sports games that have dominated the market. Since its inception, FIFA happens to be the most selling series of sports games ever. Apart from this, the FIFA games happen to be one of the most popular games across the world. Much of it is thanks to the popularity of the sport itself. Football is enjoyed across all continents, except Antarctica I assume.
FIFA 21 is the latest generation installment in the series. With a larger roster, filled with international players and clubs, the game is all we could ask over. You can try out your luck in Career Mode, or create your own dream team. With the lockdown restrictions levied upon the world, there's no better time to play a match or two online.
Displayname field missing from registry FIFA 21
I'm sure the frustration over errors is a sentiment shared by many. If you find yourself facing the displayname field missing from registry FIFA 21 error, you have come to the right place. Here are some steps you can follow that will help you fix this particular error:
Navigate to "FIFA 21" in the Origin store
Proceed to add the game to your library
On the Download-Window popping up just click next
Your game will not install again, it will just be detected by Origin again.
The Cloud-Synchronisation process will begin.
After some time, the game should start back up normally.