Here is a Stardew Valley wiki like guide to help you fish in Stardew Valley on Mac. Stardew Valley is one of the most popular games available on multiple platforms including Playstation, Xbox, Switch, PC, Android, iOS and Mac. Fishing is one of the best mini-game in Stardew Valley. Learning to fish may be tricky for first timers especially on Mac. Here is a quick guide for fellow Mac gamers on how to play the fishing mini-game in Stardew Valley. 

Get a fishing rod and equip it
The first thing you have to do is to get yourself a good old fishing rod. There are four types of fishing rod in Stardew Valley – Bamboo Pole, Training Rod, Fiberglass Rod and Iridium Rod. You can get the Bamboo Pole by accepting Willy the fisherman's invitation on your second day. Each fishing rod can be bought from Willy's fish shop at different prices. You can do this after reaching a certain level of player's fishing XP. Once you get a fishing a rod, simply equip your fishing rod and head over to an ocean or river.

Attach bait to your fishing rod
You can't use bait or tackle on a Bamboo Pole. So, you can skip this step if you're equipped with one. Normal click to pick up the bait from your inventory then hold control and click. Two finger click on the fishing pole while hovering the bait over it also works. Now, if you have a mouse attached to your Mac then select the bait in your inventory and hover it over your fishing pole then right click. Remember there are different varieties of bait and tackle you can buy or craft that provides different attributes and makes your goal to become a master fisherman easier.

Cast a line & wait for a hit
Now click the action button near a river or ocean and a meter will pop up, The more the bar fills while you hit the button a second time, the further you cast your line. The further you cast your line, the better your chances to attract more valuable fishes. Now, you have to wait to get a hit, a sound and visual indicator that lets you know that you're about to get a hit.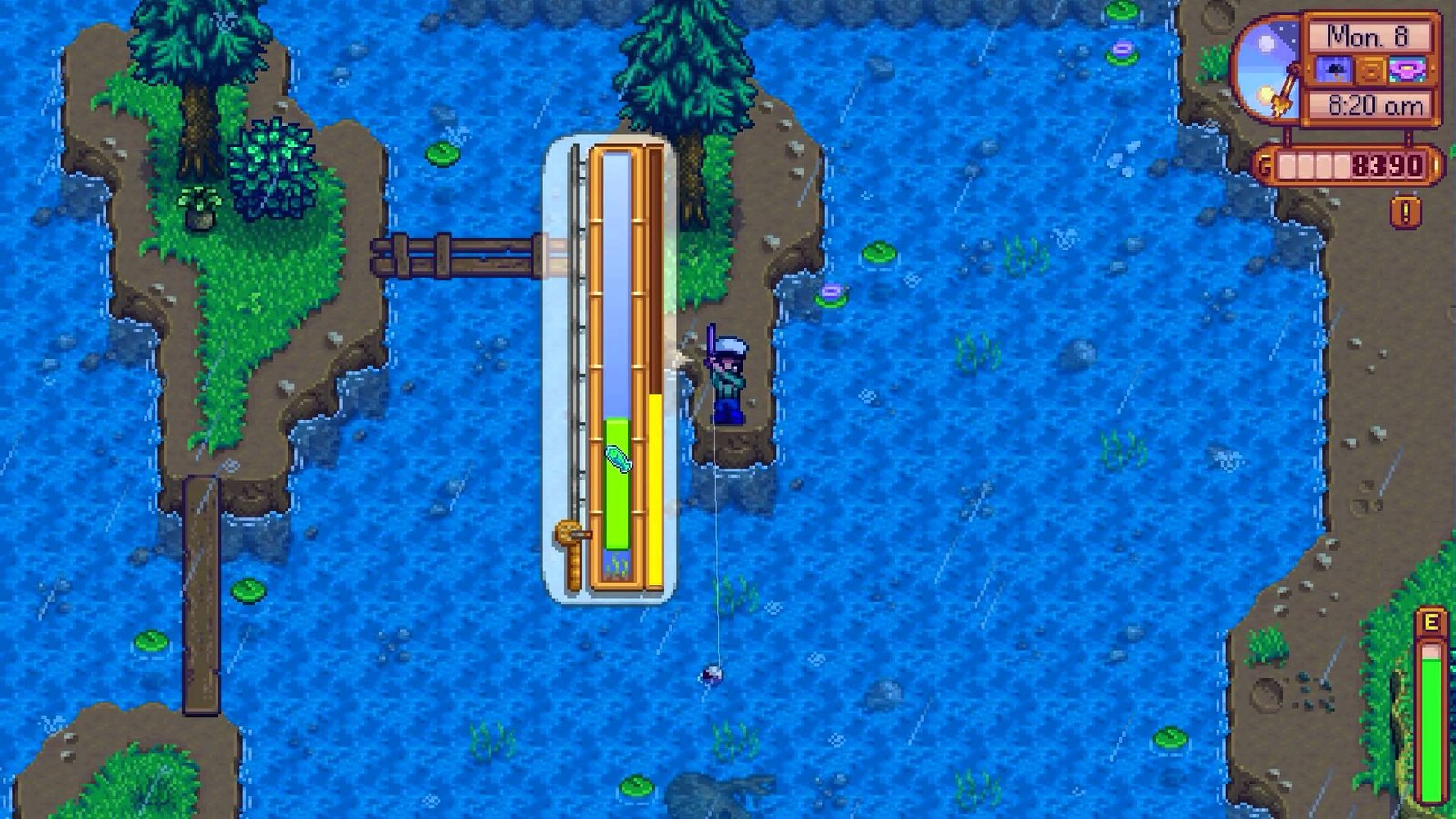 Getting a hit & Catching the fish
Once you have the hit, click the trackpad. Then, keep single clicking the trackpad to keep the fish inside the green bar. Your fish needs to stay inside of that green bar. While the fish is inside the green bar, the main meter will fill up indicating you're catching the fish. When this meter is filled, congratulations you've caught yourself a fish.

Pro Tip : Increasing your fishing XP level should be the priority for fishing as it will increase the size of your green bar and also allows you to get better trusty fishing tool and makes fishing a piece of cake. Fishes are one of the easiest items to sell and earn more resources. There are other items that can be sold too.


Feel free to comment below if you have any questions.