FnF features a bunch of new characters with every new update. The current Week 6 update brought the new Senpai, The Dating Sim as the Week's Antagonist who isn't quite that old. Here's everything you need to know.
Friday Night Funkin
This 2020 released title is a rhythm game developed by @ninja_muffin99. It features the story of a boy who is desperate to impress his girl but fails as there are hurdles on his path. He has to defeat anyone who stands in his way in a battle of music. The player has to take control of the boy and help him win by hitting the correct notes on time. If he wins, he gets the ultimate reward, a kiss.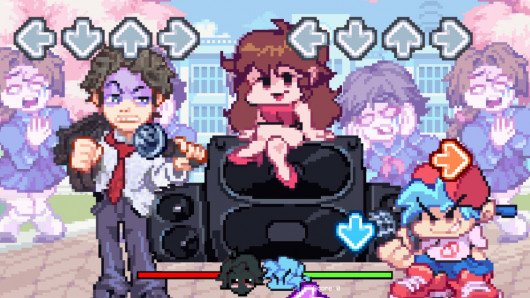 FnF features really amazing tracks to battle on and the credit for this goes to @Kawaisprite. With new updates hitting the game after every 2-3 weeks, the game has a lot of tracks as well as characters to fight against. However, Week 6's antagonist Senpai, the Dating Sim is more of a unique character. Week 6 also features 3 new tracks named Thorns, Senpai, and Roses. If you wish to listen to them, you can head over here to find their Soundcloud Links.
Week 6- Senpai
The Week 6 update is focused on providing a new and richer experience to the FnF players out there as it features a pixelated theme. Week 6 has 3 different levels and after defeating Senpai in each level, his expression changes, and on the final level, he changes to a spiritual entity. However, his age remains a mystery. Well, we will be solving this mystery for you right here.
How old is Senpai?
Senpai appears to be a light-skinned, male high school student whose age is probably somewhere between 22-26. So, now you know his age. Grab your keyboard and defeat him before he runs away with your girl in FnF.