Hot Wheels Unleashed is an upcoming arcade racing game in the popular Hot Wheels toy franchise. The game comes from the developer studio & publisher, Milestone S.r.l. It is coming out on PlayStation 4, PlayStation 5, Xbox Series X/S, Xbox One, Microsoft Windows & also on Nintendo Switch. The game launches on September 30.
Create Custom Race Tracks
The game allows players to create & customize their own race tracks. Likewise, players can race on their own tracks and also share their race tracks. Players can also collect elements for the tracks & use the interactive environment for building their own tracks.
Collect Cars in Hot Wheels Unleashed
There are a total of 66 toy cars coming out on release day. The game features many cars from the Hot Wheels Mattel toy line. Likewise, there are also other real-world cars, unique custom fictional cars available as well. Additionally, the game also includes cars from different franchises or IPs & several classic cars. Therefore, players can create their own collection of cars in the game.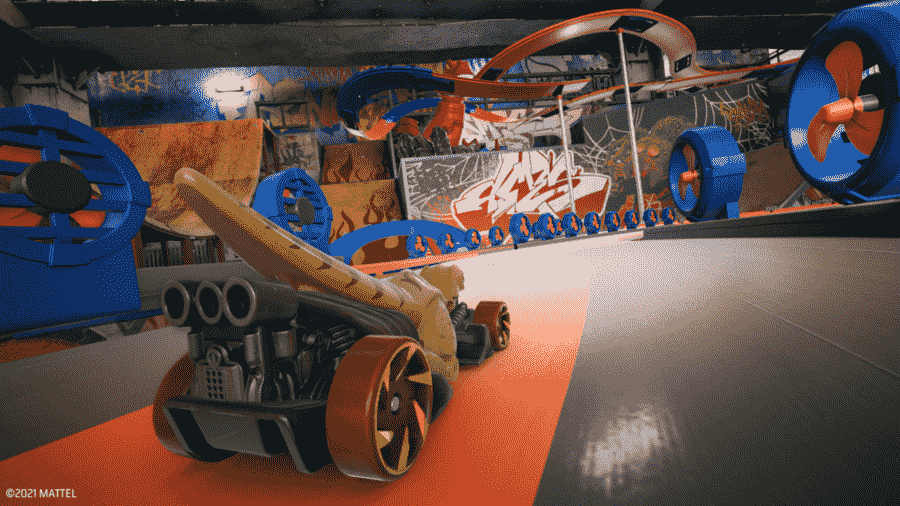 Here is a list of all the cars available to players in the new game:
Cars from the Hot Wheels Originals
24 Ours

Bad to the Blade

Boneshaker

Boom Car

Bump Around

Buns of Steel

Dragon Blaster

Exotique

Fast Gassin

Formula Flashback

GT Scorcher

Hot Wheels High

Jungle Mauler

Motosaurus

Mountain Mauler

Night Shifter

Off-Duty

Power Rocket

RD02

Rip Rod

RocketFire

Rodger Dodger

Roller Toaster

Sandivore

Sharkruiser

Skull Crusher

Solid Muscle

Street Creeper

Street Wiener

Supercharged

Surf 'N Turf

Tanknator

Time Attaxi

Total Disposal

Track Manga

Tricera-Truck

Tur-Bone Charged

Twin Mill

Veloci-Racer

Winning Formula
Cars from other Franchises or IP
Back to the Future Time Machine

Batmobile

K.I.T.T.

Snoopy

TMNT Party Wagon
Cars from the Real-world
Audi R8 Spyder

Audi Sport Quattro

'55 Chevy

Copo Camaro

'71 El Camino

'69 Dodge Charger Daytona

RAM 1500 Rebel

FIAT 500

'32 Ford

1956 Ford Truck

2018 Ford Mustang GT

Humvee

Honda S2000

2020 Koenigsegg Jesko

Mini Cooper S Challenge
The game is currently available for pre-order on Steam. There are also different editions available for pre-order- Hot Wheels Unleashed: Collector's Edition & Hot Wheels: Ultimate Stunt Edition with different bonus perks and content. The game also features multiplayer gameplay both in online & split-screen multiplayer modes.