Kneazle Cat is one of the most beloved creatures present in the recently released game, Hogwarts Legacy. This cat is a kind of magical beast present in the game that you would want to be friends with. Many players wonder how to get or catch Kneazle Cat in Hogwarts Legacy. If you also wonder the same, then you will get to know how to do this by the end of this guide. So, let's get right into it.
Hogwarts Legacy Kneazle Cat
Before heading to the location where you can find this kind of creature, you must be aware of the fact that you have to get access to the Vivraium, and the Nab Sack to catch beasts in the game. For this, you have to complete the "The Elf, The Nab-sack, and The Loom" quest. Completing this quest will also reward you with a Nab Sack, which is again a prerequisite for catching a beast in HL.
Now, if you have played this game for a while, you must be aware of several kinds of spells that would be of great help in catching a beast. Spells like Levioso, Accio, Alohomora, etc. can be very helpful. Levioso is by far the best spell to catch beasts in this game.
Adding to the point, you would not want to get spotted while getting closer to the Kneazle Cat as it can make it run away. For that, you must use the Disillusionment utility. Now that you are ready, let's see where you can find or locate Kneazle Cats to catch them.
Location to find Kneazle Cat
Head to the area in between South Sea Bog and Coastal Cavern, and look for the "Paw" icon(Kneazle den) highlighted in the image below. You can use either your magical broom or the nearest Floo Network Station to get to this area, as per your convenience. Make sure to land at a certain distance from these cats as they are known for their suspicious and aloof nature.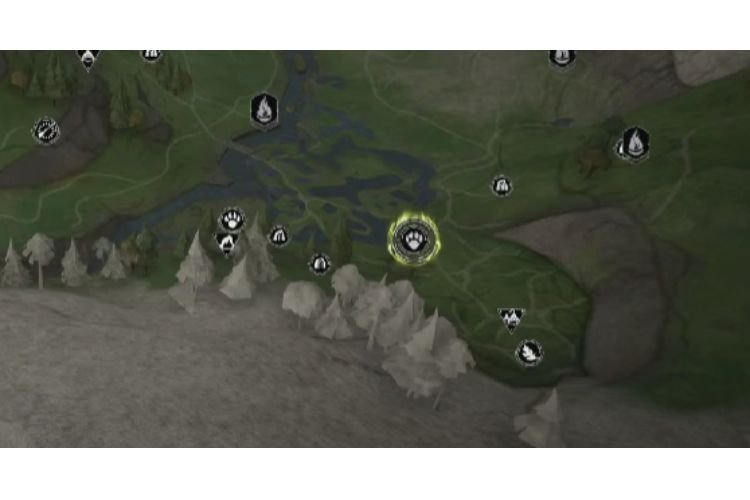 Once you've located a Kneazle cat from a certain distance, you'll need to get closer to it. So, it is the moment where you have to use the Disillusionment ability to make yourself invisible. Now that you have moved closer to the Kneazle Cat, cast a spell to catch it off-guard, and then use your Nab Sack. When you are invisible, it is recommended that you use the "Levioso" spell to make the beast levitate in the air, thereby not allowing it to escape. Now, get close to it and use the Nab Sack to catch it successfully.
So, this brings us to the end of this guide. This was everything about catching Kneazle Cats in Hogwarts Legacy. If you found this guide helpful, share it with your friends.
Related: Hogwarts Legacy: How to Find & Get Niffler