A lot of Hogwarts Legacy players have encountered FPS drops and stuttering issues while playing the game. This is a very annoying problem and completely ruins the whole immersion. Now, there are several reasons why you might face this issue in the game. First, the devs are still polishing Hogwarts Legacy as it approaches its global launch. So, you might come across these types of problems during its early access phase. Secondly, outdated drivers and incompatible hardware can also cause FPS drops and stuttering. Anyways, if you are also looking for a solution, then you have come to the right place.
Hogwarts Legacy is one of the most anticipated games of 2023. Everyone is desperate to start exploring the wizarding world. Some people have already started doing so. A lot of folks among them have noticed that the game sometimes struggles with performance. It won't be surprising if you have low-tier hardware, but folks with top-end specs have also encountered FPS drops, stuttering, and clunky gameplay issues. Well, it is quite common that no game is perfect, and Hogwarts Legacy is no exception. So, you will face these types of issues occasionally. But, some players have found a couple of workarounds for it.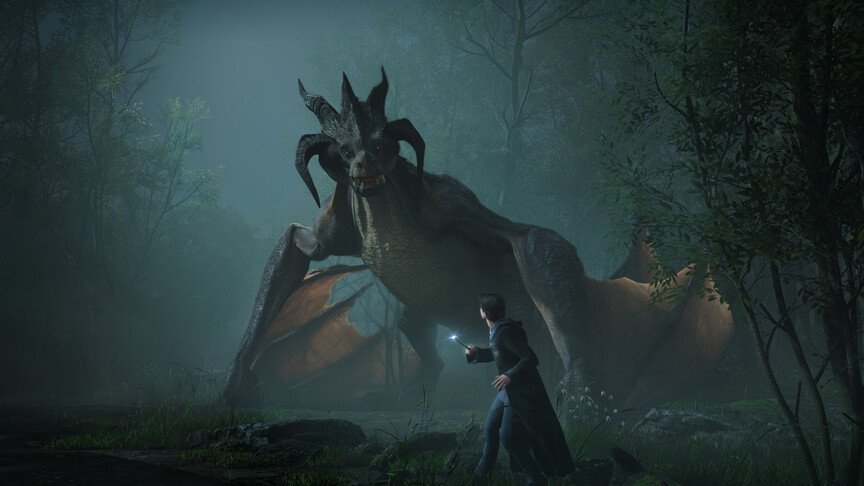 Hogwarts Legacy Frame (FPS) Drops & Stuttering issues: Is there any fix yet?
Unfortunately, there is no official fix for the FPS drop and stuttering issue in Hogwarts Legacy. But, there are some solutions and workarounds that will come in handy. These methods have given positive results for a lot of people. We have mentioned all of them below for you.
1) Restart the game-
The first, and most basic, way is to restart Hogwarts Legacy. You will face weird stuttering problems if the game fails to load properly. A simple restart will fix this problem and allow you to continue enjoying the game.
2) Reboot your system-
Similar to the previous step, you should reboot your system to try and fix this issue. This can also sometimes resolve small bugs and glitches.
3) Disable Control Flow Guard (CFG)-
A user on Steam suggested that disabling CFG will fix the FPS drop and other performance issues in Hogwarts Legacy. To do this, first, close the game and then follow the steps mentioned below.
Press the Windows key to bring up the search bar and type "Exploit Protection". Select the first result.
Click on Program Settings and then on Add Program to Customise option.
Next, click on the Choose exact file path option.
Now, go to the game directory. This should be located at- \Steam\steamapps\common\Hogwarts Legacy.
Select the game's .exe file and then a new menu will appear.
After this, click on the Control flow guard (CFG) option.
Now, check the Override System Settings option and switch the ON option to OFF.
Lastly, click on Apply and close the menu. Now, restart your PC and launch Hogwarts Legacy.
4) Manually Update the DLSS files-
According to most people, the outdated NVIDIA DLSS DLL files that are bundled with the game are the root cause of this issue. So, you will need to manually update them. To do this, first, download the latest version of Nvidia DLSS DLL files. Now, go to Steam> steamapps> common> Hogwarts Legacy> Engine> Plugins> Runtime> Nvidia> DLSS> Binaries> ThirdParty> Win64 and replace the old files with the new ones that you have downloaded. After this, restart your PC and then launch Hogwarts Legacy.
5) Update your GPU drivers-
Outdated GPU drivers can also cause performance issues like FPS drop and stuttering in video games. So, visit either NVIDIA's or AMD's website and download the latest version of the drivers and install them on your PC.
6) Use an SSD to store and run the game-
The devs have specified that you will get better performance if you store the game's files on an SSD. Technically, SSDs are way faster than your traditional hard drives. So, running Hogwarts Legacy on SSD might solve your stuttering and FPS drop issues.
7) Switch to the dedicated GPU-
Laptop users might want to switch to their dedicated GPU to run Hogwarts Legacy. It is a resource-demanding game, so your dedicated GPU should be running it. To do this, press the Windows key and type NVIDIA Control Panel. Now, go to Manage 3D Settings and click on the Program Settings tab. Here, select Hogwarts Legacy and then set the Preferred Graphics Processor option to High-powered NVIDIA Processor.
8) Update the game-
As the game is going to be released soon, we are sure that the devs will bring the Day 1 patch with optimization updates. So, make sure to update the game to its latest version if any updates are pending.
9) Lower In-game settings-
If your PC is not capable enough to handle the newly released RPG, then you must lower the in-game settings to fix the stuttering and FPS drops. Also, select the Performance mode for DLSS and enable Nvidia Reflex+ Boost.
Well, this brings us to the end of the guide. We hope the stuttering issues in Hogwarts Legacy are fixed after following these workarounds. For more such useful guides, stay tuned to Digi Statement.