Hogwarts Legacy has been pretty fun so far. But, a lot of players have come across the black screen on launch issue while playing the game. This strange problem has become quite common and people don't know how to rectify it. Well, it is important to fix this problem if you want to keep playing Hogwarts Legacy. Unfortunately, not everyone is tech-savvy enough to do this on their own. Naturally, folks are looking for an answer everywhere. So, if you also wish to get rid of this issue, then you have come to the right place.
Hogwarts Legacy had one of the best first-day sales in history. It broke tons of records and folks are already considering it the game of the year. But, even a great game like this is not without flaws. Players have encountered all sorts of bugs and issues while exploring the vast world of Hogwarts Legacy. Although devs have promised to resolve all these issues soon, people still want to continue playing the game while waiting for a fix. At the moment, your only option is to check out the workarounds floating on the internet. Below, we have assorted some fixes that will help you out with the black screen at launch issue.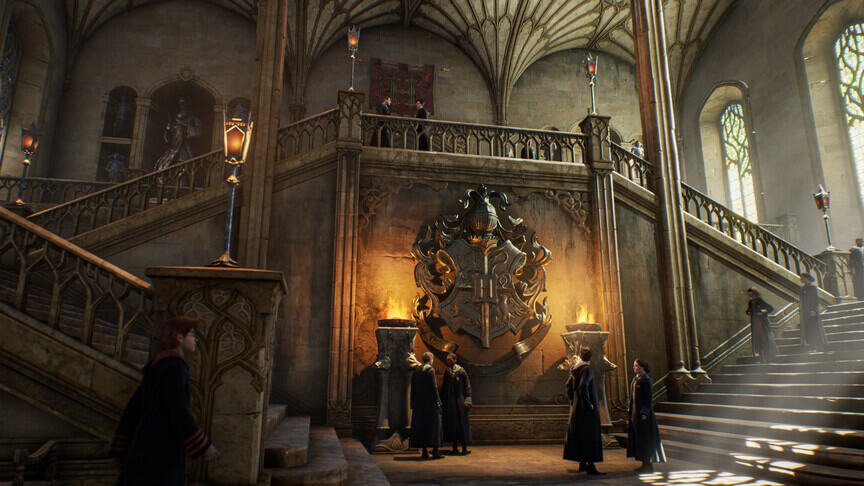 Hogwarts Legacy black screen on launch issue: How to fix it?
As we mentioned before, there are a couple of ways to resolve the black screen on launch issue in Hogwarts Legacy. Note that these are not official fixes but mere workarounds. Devs might roll an official hotfix update at a later date. Till then, you can try these workarounds-
1) Restart the game and your PC-
This might sound obvious, but before you do anything else, first, restart Hogwarts Legacy and also reboot your PC. A lot of time, the game and your system failing to launch properly trigger these types of issues. A simple restart mostly fixes the problem.
2) Update your GPU drivers-
The next important step is to update your GPU drivers. Outdated drivers will cause all types of problems while playing video games. After all, your GPU is responsible for rendering all the visuals and running the game. So, visit NVIDIA's or AMD's website and download the latest version of your GPU drivers and install them.
3) Lower the in-game graphics-
If you are able to reach the Main Menu in Hogwarts Legacy, then head over to Settings. Here, go to the Graphics settings and lower all visual settings. Disable other graphical features like bloom and water reflections to decrease the load on your system.
4) Turn off all the background tasks-
To do this, close Hogwarts Legacy and then press the Ctr+Shift+Esc keys to open the Task Manager. Now, go to the Programs tab and check if any application is using too many system resources. We recommend closing web browsers and other applications like Discord and Spotify while playing video games.
5) Enable V-Sync-
Once again, if you are able to access the in-game settings, then enable V-Sync. Quite a few people have been able to resolve this issue by turning on this feature in Hogwarts Legacy. On the other hand, you can also try turning it off and check if it helps.
6) Repair the game files-
You might also encounter the black screen issue due to missing or corrupt game files. But, you can easily repair them. To do this, follow the steps below. Since this process takes a couple of minutes, we recommend being patient.
Launch the Steam Client.
Go to Library.
Right-click Hogwarts Legacy and select Properties.
Head over to the Local Files tab.
Click on the Verify integrity of the game files option.
You can also do the same thing if you purchased the game via Epic Games Store.
7) Reinstall Hogwarts Legacy-
Now, if none of the above methods worked out for you, then you can try reinstalling the whole game as a last resort. But first, check for any updates, and only then uninstall the game from your PC. Then, do a clean install of the game and check if the issue persists.
So, these were some methods to fix the black screen at launch issue in Hogwarts Legacy. Stay tuned to Digi Statement for more such articles and gaming guides.