Hearthstone is a free online collectible card game. It has quickly become a fan favorite because it rekindles the childhood joy of collecting cards. It is a continuation of the Warcraft series and houses the same characters, relics, and elements. Hearthstone has a very exciting event planned for the future. The Fireside Gathering is an amazing event that will be worth the wait. Taking the present complaints into account, it is necessary to fix the Hearthstone game start error.
Hearthstone Game Start Error
Hearthstone is a turn-by-turn card game where each player can select up to 30 cards to form the deck. They can also select a hero with a specific element specialty. This error is just like an undesired item in delicious cuisine. The game start error is indeed troublesome. Players have flooded the community threads about this error. You can follow the steps listed below to fix this error.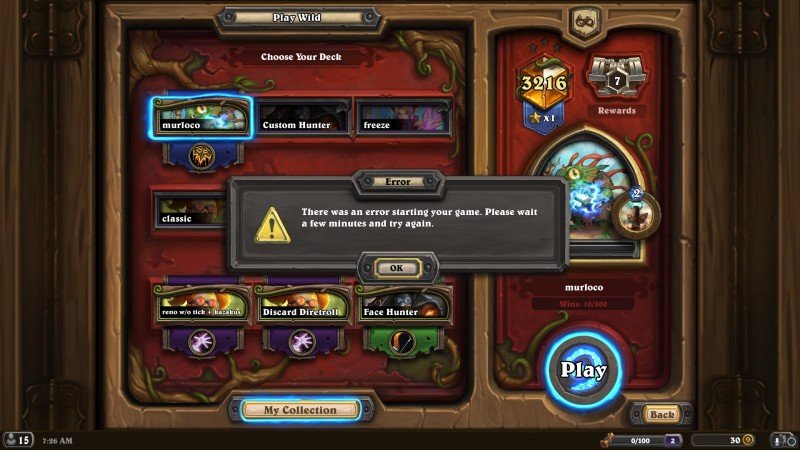 1. Leave the Fireside Gathering
The fireside gathering event is planned for the future. It is still in its development phase. Thus it is normal for the activity to throw errors. You have to leave this event for now. Go to the Social menu. Now, select the Fireside Gathering event. From the dropdown that appears, click on leave. You will be absolutely fine while playing the normal games.
2. Invalid Deck
Another reason behind this error is if you are using an invalid deck for the duel. The standard model and duels are very strict regarding the deck authenticity. The deck you are planning to use might be marked invalid by the game rules. Simply, delete the deck and recreate it manually.
These tips may sound simple but are very effective. These will help you get rid of the Hearthstone game start error message. In case you face any other difficulties, you can seek help from the battle.net community.