Huawei is one of the top leading smartphones manufacturing company in the world. It is popular because of its mid-range high-tech devices and customized UIs. Last year in August, Huawei launched its own customized OS known as Harmony OS which is an open-source micro-kernel-based operating system.
Initially, HarmonyOS was designed mainly for Internet of things (IoT) devices like smart TVs but the latest version of the OS called HarmonyOS version 2.0 comes with support for smartphones, head units, watches and smart TVs. It was launched recently At Huawei Developer Conference (HDC) 2020.
The new HarmonyOS unpacks some great features like Multiplayer motion game controller, AI based network security, Distributed Virtual bus pools technology and many more. Currently, Huawei is forced to ship Android OS based smartphones without google apps due to ban. But the new HarmonyOS will be game changer for the company. The report says that the company is planning to ship the new HarmonyOS on its smartphones in 2021.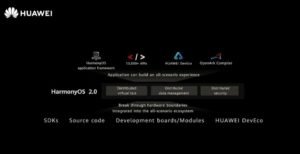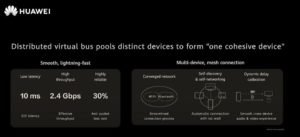 The list of the expected devices that will receive the new Harmony OS as per the report posted by Huawei Central are :-
Harmony OS Eligible Huawei Devices
Huawei Mate 40
Huawei Mate 40 Pro
Huawei Mate 40 Pro+
Huawei Mate 40 RS Porsche Design
Huawei Mate X
Huawei Mate Xs
Huawei P40
Huawei P40 Pro
Huawei P40 Pro+
Huawei Mate 30 4G
Huawei Mate 30 Pro 4G
Huawei Mate 30 5G
Huawei Mate 30 Pro 5G
Huawei Mate 30 RS Porsche Design
Huawei Nova 8 (Upcoming)
Huawei Nova 8 Pro (Upcoming)
Huawei Nova 7 Pro 5G
Huawei Nova 7 5G
Huawei Nova 7 SE
Huawei P30
Huawei P30 Pro
Huawei Mate 20
Huawei Mate 20 Pro
Huawei Mate 20 X 4G
Huawei Mate 20 X 5G
Huawei Mate 20 RS
Huawei Nova 6 5G
Huawei Nova 6 SE
HarmonyOS eligible Honor devices:
Honor V40 (Upcoming)
Honor 30 Pro
Honor 30 Pro+
Honor V30
Honor V30 Pro
Honor Play 4 Pro
Honor X10 5G
Honor 30
Honor 30S
Honor X10 5G
Honor 20 Pro
Honor 20
Honor 9X
Honor 9X Pro
Wearables:
Huawei Watch GT 2 Pro (Chinese version)
Huawei Watch GT 2e
Huawei Watch GT 2
Tablets:
Huawei MatePad Pro
Huawei MatePad Pro 5G
Honor Tablet V6
There is no any official confirmation from the company about the eligible devices but HC has confirmed it by analysing various leaks and sources.