GTA Online weekly update is here and it includes a lot for players to grab this week. Hunting packs are giving tripe RP as a reward to put your life on stakes. Also, there is a reward of a whopping $1M GTA money for completing 10 Daily Objectives. The main attention of the players will gather around Blue jack Cranley Jumpsuit this week.
GTA Online Weekly Update Notes
Triple Rewards in Hunting Pack And $1M Bonus
Those who will emerge victorious in Hunting Pack adversary mode, they will take home 3X GTA$ & RP. Also, completing 10 daily objectives Until May 27 will transfer $1M in-game money in your bank account.
Unlock Blue Jock Cranley Jumpsuit This Week
This opportunity won't come later. Get into the game and unlock the Blue Jock Cranley Jumpsuit before May 27th. Also, get a Star-spangled motorcycle and ramp separately to become an American stunt man.
More Rewards And Discount
Lucky Wheel Reward of this week is the Bravado Half-Track.
A one-time gift of GTA$500,000 if you haven't played GTA Online in May.
Discounts
Free Firework Launcher and Firework ammo
50% Off Hangars
50% Off Hangar Modifications & Add-Ons
Free Mobile Operation Center Liveries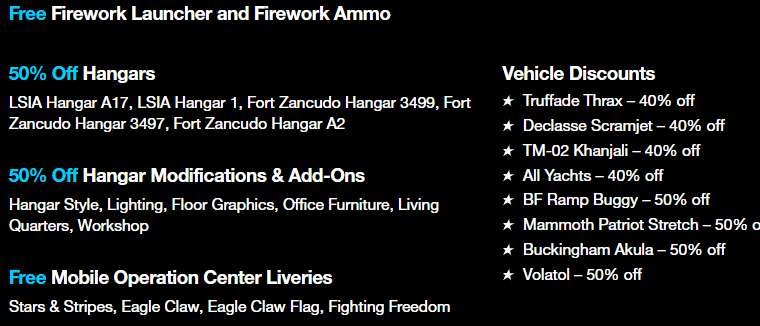 Vehicle Discounts
Truffade Thrax – 40% off
Declasse Scramjet – 40% off
TM-02 Khanjali – 40% off
All Yachts – 40% off
BF Ramp Buggy – 50% off
Mammoth Patriot Stretch – 50% off
Buckingham Akula – 50% off
Volatol – 50% of