Google has finally dropped one of the most exciting apps of the year 2020 for Indians. The public beta app v1.4 of Google Task Mate is now out for download. But this app is not rolling out after a live registration or as an open public beta. You need a referral/ invitation code to get access to use this app and its features. From the Google Mate APK link to referral code, you will find them all in this article!
As it is a beta version, Google Task Mate is only open for a limited number of users despite having a code- so hurry up! Given below is the referral code-
Referral Code-
H3U8SZ
If the above code has reached the maximum limit, try either one of the codes in the image you see below, provided by a dedicated Telegram page-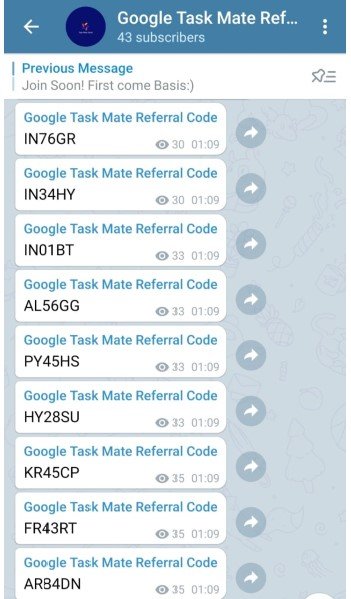 These codes could have reached the maximum limit too, as users from all across the globe are trying out this amazing app from Google. But these codes are being released frequently- we will update this article once the next batch of codes arrives!
Download the app from the link below and follow the given instructions to make the best use of the beta version of Google Task Mate!
Download Google Task Mate-
---
How to use and earn money?
Step 1-
Download the app from the link above.
Step 2-
Open the app and log-in using your Google Account.
Step 3-
Select a suitable language and click on Continue, just like how you set-up any Google app.
Step 4-
Enter the referral code which is provided at the start of the article.
Step 5-
Once entered, accept the terms and conditions and then proceed.
Step 6-
You will enter the main page of the app. Choose a task from the available tasks. Complete the tasks as per instructions.
Step 7-
Once completed, earn money, link a payment account, and cash out!
You can read more about the app, its features, and how it is going to benefit a lot of Indians in the link below. This is a great app from Google to earn money easily without many complications- reliable is the perfect word! We hope the stable version of the app launches soon!
---
---
We post related content and exciting updates every day, so stay tuned! Also, share this article with all those who might find this news helpful!