Formerly known as Android Market, Google Play Store is a digital distribution service operated and developed by Google. It is an official app store for certified devices that run on the Android operating system. You can find all types of apps on this place. Google also places restrictions on the types of apps that cannot be published. It does not allow sexually explicit content, child endangerment, violence, bullying and harassment, hate speech, gambling, illegal activities and requiring precautions for user-generated content.
Google has disclosed in 2015 that in the last few months, it had started using a combination of automated tools and human reviewers to check apps for malware and terms of service violations before they get published on the Play Store. At the same time, it also started rolling out a new age-based rating system for apps and games on the basis of a given region's official ratings authority. Google also made changes to the store's app review process in 2019 stating that it will take several days for reviewing app submissions from new and old developers.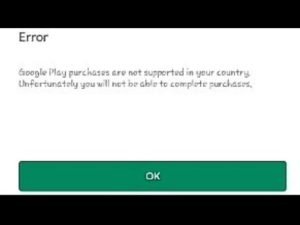 But recently Android users have complained about a problem related to the Google Play Store. Users have complained about an issue where they were being shown that the purchase is not supported when they decided to buy anything on the Play Store.
Users said that they are not able to complete their purchases. People said that they have entered their payment details correctly. Some said that they tried to make purchases from those apps that were available in their country. Still, their purchases have been denied by showing that the product they want to purchase is not available in their country. A few people have also complained that their purchase was denied in between when it was about to be completed.
Google has not yet officially mentioned any troubleshooting step for this issue. The best you can do in this situation is close Google Play Store and open it again and try to make the purchase. Also, restart your phone and try to purchase again. If the issue is not fixed, contact the developers of the app through their customer support.