Google is mostly popular for its search feature. But it has provided a lot more than that. It has offered us the Google Play Store. It is a digital market that is full of different types of content. Google Play Store started its journey as 'Android Market' in 2008. It was launched along with the very first Android devices. The purpose of the Android Market was to distribute apps and games. It was completely basic when launched initially. It was not supporting paid apps and games till 2009 and had 450,000 Android apps and games by 2012.
The creation of the Google Play Store in 2012 was the culmination of three different online markets that Google was running at that time. It was a combination of Android Market, Google Music Store, and Google eBookstore. Google eBookstore was launched in 2010 and had around three million eBooks. It was largely filled up with public domain titles and scans. Google Music was launched in 2011 in beta. Fans loved the local uploading feature and the library of music to purchase was not so big.
Compared to Android apps and games, Google Music and eBook stores are not exclusive to Android devices. Google took the same approach as Apple and kept the App Store, Apple Books, and iTunes as different entities.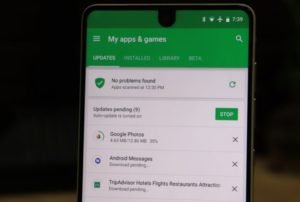 But users have recently complained about a problem related to Google Play Store. Users complained that downloading process was stuck on pending process and it did not go further than that. It is an issue of Google Play Store that is being commonly reported by most of the users nowadays.
Users said that whenever they tried to upload any app and clicked on install, the process kept stuck on pending. Users cancelled the download and tried it again but still it did not work. Most of the users said that they are using a stable and working internet connection but still they are not able to download the apps. A few other users also said that they were experiencing the issue only in terms of a few specific apps and it did not occur in terms of other apps and games. If you are facing the same type of issues, there are a few things you can try to fix it –
Ensure that you have sufficient space on your phone for downloading the app. Check the amount of phone storage available and if there is not, clear some unnecessary data and try to install the app again.
Clear the cache of the app by going to your device settings.
Remove your Google account and add it again.
If you are using VPN, disable it and then try to download the app. VPN can cause a lot of interference in downloading the app.
Adjust the date and time settings of your phone according to the official date and time.