Google Play Store is Google's platform for providing different digital content to its consumers. In comparison to what people might think, Google Play Store is not just an app store. You will find every type of content here. Google Play Store is the home to music, movies, books, and games along with the regular Android applications. Google offers a huge collection of music from all across the world. This requires a subscription or one-time payment because you can digitally purchase content. There are movies and books along with apps and games.
A few of the apps and games require payments and the others do not. Everything is clearly mentioned in the app listings. All Android smartphones do not come with Google Play Store pre-installed. It is pre-installed on smartphones that ship with Google Mobile Services also called GMS. We are talking about Android as one platform and it is open-sourced. It is free to use and manufacturers are not forced to pre-install Google Mobile Services if they don't want to at all. We are used to GMS that includes pre-installed apps by Google.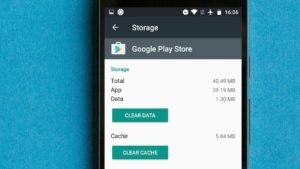 Now recently, Android users have complained about an issue related to Google Play Store. Users said that Their Google Play Store account is not loading. Most of the users said that when they try to open their Google account, it says there is no internet connection. People said that their Wi-Fi and network coverage are working fine and still they are facing this issue. Users have complained that because of this error, they are not able to use some features of the Google Play Store and not able to install the app updates.
Most of the users said that the problem has been going on for multiple days. They have also complained to Google support but it has been of no use. So, if you are facing a similar kind of issue, you can try a few things to fix it by yourself –
Make sure that you are using the latest version of the Google Play Store. If not, update it to the newest version.
Clear the cache and data of the Play Store on your device settings.
Restart your device and relaunch the Play Store. See if the issue still exists.