Godfall is an enjoyable RPG that offers a solid combat system and a decent story with fantasy elements like swords, and magic merged with the looter genre, making it satisfying to play and enjoy the experience it has to offer. It is an online co-op multiplayer game that features various quests, new content and continues to improve with updates that add quality of life features making it more appealing and enjoyable for new players. Those who have played the game are well aware of Dreamstones that act as a catalyst for players to attempt new challenges, and missions that can be completed to gain rare rewards and are perfect for grinding.
For players who are new to the game and looking for a way to increase their Dreamstone level & farm them, we've compiled a simple guide that'll explain the basics of Dreamstone and help you increase it.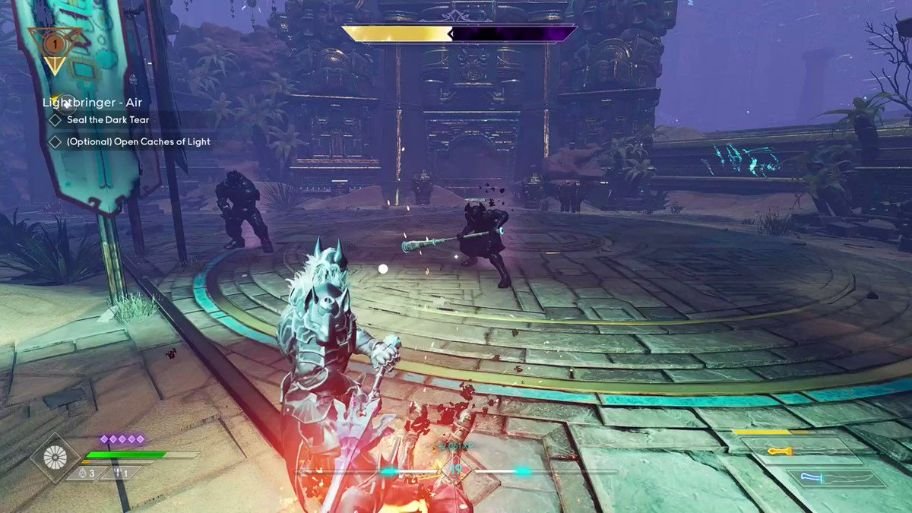 The setting of Godfall.
The story of Godfall revolves around you, the player who is the last of the Valorian knights that are capable of equipping Valorplates that turn wielders into unstoppable masters of melee combat. Cut your way through enemies and elemental realms, challenge the mad god, Macros who awaits you and ascent to greatness.
What are Dreamstones in Godfall?
To put it simply, Dreamstones are a sort of endgame content that is accessible after defeating Macros and finishing the main campaign. Players who use Dreamstone often have randomized encounters with enemies and many skilled players use it to grind high-level gear.
How to farm and increase Dreamstone levels.
Farming Dreamstone and leveling them up takes persistence and patience and it's worth it. You'll be learning about how to increase your level of Dreamstones, including standard ones and volatile ones as there are curses in your gear that can be removed by defeating level 55 Dreamstone bosses or higher. The most important part about leveling Dreamstone is modifiers. This will display when you're going to be increasing your Dreamstone level.
Start your Dreamstone and attempt a few runs for a while and in the next boss action, it'll inform you that you have increased your Dreamstone level by +1. Not only it will increase your dreamstone level but it also increases your rewards of Volatile Dreamstone that are linked to the final boss.
So, complete boss fights to increase your Dreamstone level, and then go back to the sanctum. Now, head to  Dreamstones to check your volatile Dreamstone and also make sure to check the next boss action that will indicate when you will be leveling up your Dreamstone.
Stocking up Dreamstones
Now that you've learned how to level up your Dreamstone, you should also know about how to gather some of them to farm when you get curses. The best way to do this is by running two rounds of a Dreamstone. Once you've done that, the boss fights will grant you a Volatile Dreamstone as a reward.
To summarize it, fight two rounds, then face the final boss, and the Dreamstone that you've equipped will stock up. Attempting a third round and slaying the final boss will fetch you two volatile Dreamstones. This is also applicable to other volatile Dreamstones in the game. You can also speed up this process by playing with your friends and they'll also stock up on the Dreamstones they have.
We hope that you enjoyed reading this article, stay tuned for more updates at Digistatement.