Tom Clancy's Ghost Recon Breakpoint is an online tactical shooter video game developed by Ubisoft Paris and published by Ubisoft. The game was released worldwide on 4 October 2019 for Microsoft Windows, PlayStation 4 and Xbox One, and on 18 December 2019 for Stadia.
A lot of users have been reporting connection issues with Ghost Recon: Breakpoint. According to reports, players are experiencing issues with the server connection and getting a 'Mountain-00016' error code. Well, we are not sure if this is a platform-specific issue, do let us know the platform on which you are getting 'Mountain-00016' error code.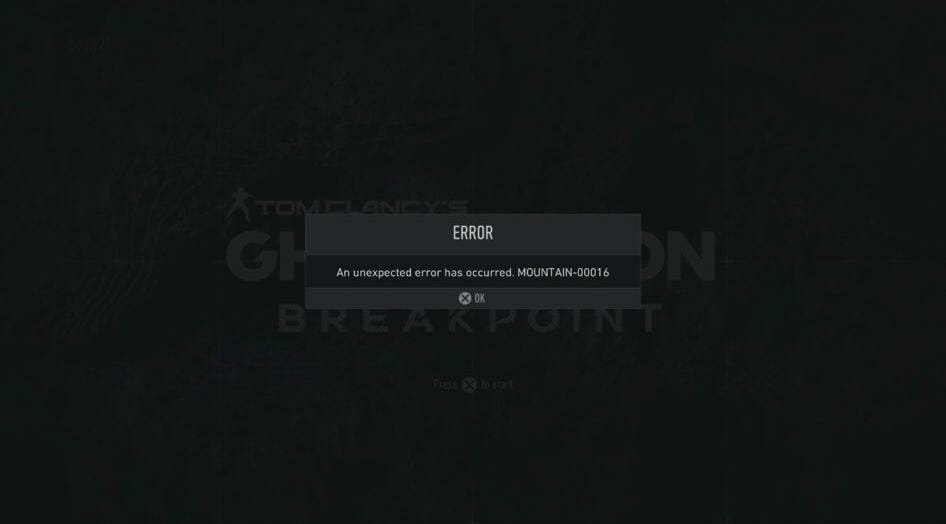 It seems like Ghost Recon: Breakpoint servers are having some technical issues in many regions. Also, a quick look at some tweets on social media handles like Twitter also conveys that users are indeed facing issues with Ghost Recon. Have a look at few tweets below.
Any official word on the matter? No, not yet. We're not able to obtain a word from the official social media handles.
Rest assured, we're keeping a close eye on all related developments, and will update the story with relevant info as and when we come across any. So in case, you're encountering the issues discussed here, stay tuned for updates.
---
[Update-1]
Ubisoft finally posted an update on the official forum regarding the ongoing issue with the Ghost Recon servers.
In the official statement, the developers addressed the connectivity issue and confirmed that the connection issues are occurring only on the PS4 platform. The statement also mentioned that the concerned team is working hard to resolve this issue
Official Statement –
Hello, Ghosts! We're aware of an issue currently affecting player's connectivity on PS4 and are working towards resolving this. We apologize for any inconvenience caused and appreciate your patience. Please be sure to check this thread for future updates. Thank you!
---
[Update-2]
The official Twitter handle of Ubisoft Support posted another update on the Ghost Recon connectivity issue on the PS4 platform.
According to the official tweet, the issue is being investigated by the concerned team.
Official Tweet –
UPDATE: ​​ We are still investigating these connectivity issues in Ghost Recon Breakpoint on the PS4. We appreciate your continued patience.
---
[Update-3]
Ubisoft has posted another update related to the connectivity issues in Ghost Recon Breakpoint.
In a new tweet, Ubisoft says that the issues with the servers are resolved now.
Well, if you are still experiencing the same issue and getting 'Mountain-00016' error code, do let us know in the comments section below.
Official Tweet –
These connection issues should now be resolved, please let us know if you are continuing to see connection issues for Ghost Recon Breakpoint