Genshin Impact update 1.1 will be the game's first big patch. With the first patches of games, we can make predictions on the sustainability of the game in the future as multiple cool and useful features are added on like the Reputation system.
Update 1.1 is fast approaching in Genshin Impact and it is via a post on the game's website that miHoYo gives us more details on the exploration system as well as on the reputation system, which comes to celebrate their arrival during of this version 1.1.
The reputation system had already been presented a week ago in a live. Thanks to it, you will be able to obtain various and varied rewards according to the regions of the game.
The Reputation System
This new system will not be unlocked once you start your adventure. It will be behind some prerequisites conditions for access. We have listed them for you below to help you prepare better.
How to Unlock the Reputation System
To unlock the reputation, you will need to reach a certain level of adventurer (or AR) and have done certain quests.
Reach AR 25
Mondstadt Reputation System: Complete Archon's quest "The Outlander Who Caught the Wind" Prologue – Act 1.
Liyue Reputation System: Complete Archon's quest "Farewell, Archaic Lord" Chapter I – Act 2.
For the moment, the reputation only exists in these two regions but it should be extended to other regions later.
How to find out your Reputation Level
To find out your reputation level, two new NPCs will arrive with the update.
The head of logistics for the Order of Favonius, Hertha for the reputation level of Mondstadt.
Secretary of the Civil Affairs Bureau, Ms Yu for Liyue's reputation level.
How to increase Reputation?
Area Quests: Complete various quests in Mondstadt or Liyue to increase your reputation in each city.
Exploration: Open chests, find Elemental Oculus, unlock teleportation points, and complete various exploration activities in the Liyue and Mondstadt regions to increase your exploration level in each region.
Bounties: Hunt down and defeat bounty targets to increase your reputation in the corresponding city. The list of bonuses will be updated every week. Each week, you can complete up to 3 bounties, all cities combined.
Queries: Respond to residents' queries to increase your reputation in the corresponding city. The list of requests will be updated every week. Each week, you can complete up to 3 requests, all cities combined.
Reputation Level Rewards
By increasing your reputation level, you will get a whole bunch of rewards that can range from gadget plans to gliders, themes, recipes and even special features.
Now let's go over the various gadgets that will be arriving that we already knew existed, but this time around we have all the details about them. Let's start with the Anemoculus and Geoculus resonance stones
What are Anemoculus and Geoculus Resonance Stones?
To obtain the resonance stones, you will have to reach level 2 for each region. (Mondstadt for that of Anemoculus and Liyue for Geoculus)
Once the plans have been collected, you will need to craft the stones using the summary tables available in the cities.
To use them, simply activate them for an area on your map to appear, showing you the location of the missing oculus in that area. Be careful, in any case, you will not have the exact location of each of its oculus. In addition, here are some details about this object:
When a lost Oculus appears on your minimap, the highlighted area disappears.
While a Resonance Stone is active or after finding a Lost Oculus using it, you will not be able to use a resonance Stone from another element if an Oculus is still nearby.
Resonance Stones have a 300-second cooldown after being used.
The Anemoculus Resonance Stone can only be used in Mondstadt.
The Geoculus Resonance Stone can only be used in Liyue.
Condensed Resin
Don't have enough original resin? A new item arrives requiring this energy as well as moras. Condensed Resin can be used to revitalize Energy Line Flowers and Petrified Trees in dungeons that require 20 Original Resins, resulting in 2 sets of rewards at a time (both sets being random).
To get condensed resin, you will need to reach level 3 of reputation in Liyue.
Nutrition Bag V30
Are you tired of going through your inventory menu to feed yourself? Well, Genshin Impact will allow you with v1.1 to have a bag that can contain two dishes to use quickly without going through the menus. Learn how to get Nutrition bag v30. Be careful because this pocket has its peculiarities:
This gadget can contain a health restoration dish and a revive dish.
When a character on the team falls in battle, the V30 Nutrient Pouch automatically switches from a health restoration dish to a revive dish.
To obtain the forge blueprint for this item, you will need to reach Mondstadt reputation level 5.
What is Adept's Cauldron
Thanks to this gadget, you can cook your meals no matter where you are, and that's cool! However, you will need to reach Liyue's reputation level 5 to access this cauldron's craft plan. Here is the list of the particularities of this portable cauldron.
This gadget is destroyed if you enter combat nearby
After creating a cauldron, Adept's Cauldron enters on cooldown for 300 seconds. Once the cooldown is over, the Adept's Cauldron will automatically disappear.
The Pocket Teleporter
Surely you were expecting it but it is coming, your pocket teleporter allowing you to create a teleport point anywhere in the world of Teyvat. This teleporter will remain active for 7 days from its activation. Of course, there can only be one custom teleportation point active at a time.
The pocket teleporter has a 60-second cooldown.
Installing a teleporter in a different location will remove your old custom teleporter location.
To get the blueprint, you have to reach Mondstadt reputation level 2.
How to use Anemo and Geo Treasure detectors
These detectors show you the location of the chest closest to you by creating a kind of light path to said chest. there are several types of detectors (Geo and Anemo). You will therefore need to have both plans to take advantage of the two detectors in the Liyue and Mondstadt regions.
Reach Lv. reputation 6 in Mondstadt to obtain the forge blueprint of the Anemo Treasure Detector.
Reach Lv. reputation 6 to Liyue to obtain the Geo Treasure Finder forge blueprint.
The detector recharge time depends on whether a chest is nearby or not.
5 seconds if there is none.
30 seconds if a chest is nearby.
With this reputation system, new features are arriving in different cities. Let's take a closer look.
City Features
How to Search for Mineral Deposits
Research will be available in each region and like gadgets, you will need to achieve a reputation level in each region.
Reputation level 2 in Mondstadt to unlock mining exploration in Mondstadt.
Level. reputation 2 in Liyue to unlock mining exploration in Liyue.
What's the point?
To use the search function, you will need to go see a blacksmith (Wagner for Mondstadt or Maitre Zhang for Liyue). These will show you the location of the mining deposits. From the deposits, you will be able to get pieces of crystal. In addition to the pieces, you will be able to get Magic Crystal Shards if you are AR 30 or above.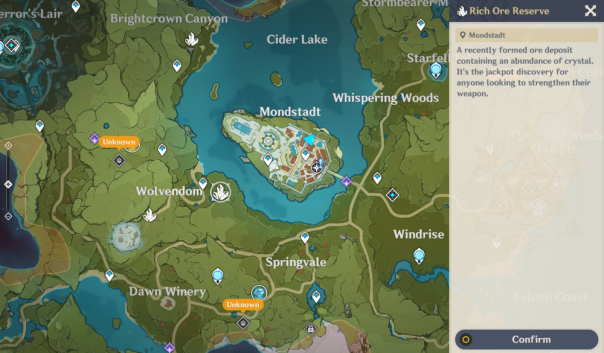 Discounts at Merchants
Thanks to reputation, it will be possible to have discounts on products from merchants in cities.
Whether Liyue or Mondstadt, you will need to reach reputation level 4 in the region.
The Exploration System
This system allows you to see your progress in each area of ​​the map if you zoom in to view the areas.
What is Archive?
A new menu that may please you if you have the soul of a collector. This is the archive menu which has a lot of information about what you have had in the game at any given time. In this menu, you will have several categories.
Equipment (weapons and artefact)
Tutorials
Specialities (Teyvat products, tools, trophy, food and potions)
Books: Allows you to read the books that have already been collected.
Geography: compile the panoramas unlocked in Mondstadt and Liyue
Characters Archives
Follow us for more Genshin Impact news and updates.