Funimation, which offers an anime streaming video service is currently down & facing an outage at many locations. Many users have not been able to access the website & consistently facing connection issues.
By observing the reports on an outage tracking website, Down Detector, one can say that Funimation is indeed going through some glitch and problems. Have a look at the current outage map down below.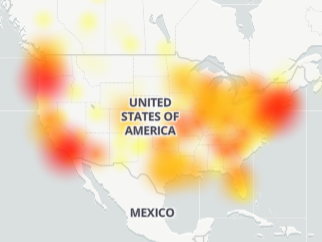 A quick look at complaints from many users also indicates that Funimation is currently facing issues. Have a look at some complaints down below.
@Sheupe @FUNimation @FunimationHelp your has a lot of issues

2020-03-02 02:41:55
@callmeFRANTIC @FUNimation I purchased movie tickets for the MHA movie and received a coupon for a free month of Funimation. But right now the app is not working, anything I can do to remedy this? Today is the last day I can renew this ticket

2020-03-02 02:38:52
@PaceyPimps @FUNimation Is Funimation down right now? It keeps logging me off?

2020-03-02 02:28:35
@Pabu06 @FUNimation having trouble connecting to the Funimation PS4 & Android app. Are you guys experiencing issues?

2020-03-02 02:24:04
@kawaiimandar @FUNimation why is the app and website not working? I can't watch any videos whatsoever without an error stating it isn't available in my territory. Wtf?
Any official word on the matter? No, not yet. We're not able to obtain a word from the official service channels or their social media handles.
Rest assured, we're keeping a close eye on all related developments, and will update the story with relevant info as and when we come across any. So in case, you're encountering the issues discussed here, stay tuned for updates.