Are you tired of trying to defeat an array of strangers in an arena of a rap battle just to impress your Girlfriend's Daddy Dearest? How about you up the game by applying the Price Feaswallow Mod and finally overcome that final hurdle? Here is how you can download and apply the mod. 
Friday Night Funkin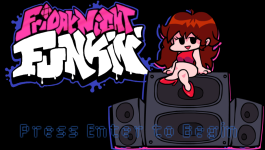 Friday Night Funkin is a 2020 rhythm game that can be played on PC developed by Canadian game developer Cameron Taylor. The whole idea of the game is that the protagonist, The Boyfriend, has to win the hearts of his girlfriend's father and others. He will have to rap/sing with an intention of convincing this whole crew of opposition who are ready to spoil his desires to take his girlfriend on a date.
The gameplay involves controlling the protagonist's rap performance by selecting the correct arrows repeatedly as the song flows by. This ensures the seamless flow of the rap performance and hence increases his chances of winning against his opponent.  
Prince Fleaswallow Mod
One of the biggest plus points and probably the main reason behind this game's rising popularity, is it being an open-source game. This means anyone with a little bit of coding knowledge accompanied by an artistic touch can create a mod acceptable to the players. This is why this game has a vast range of mods with skins and new songs available for its players. 
One of such popular mods is the Prince Fleaswallow mod. In this mod, Parappa the Rapper's Prince Fleaswallow enters Friday Night Funkin' with his song, new sprites, and his own stage. 
How to get Price Fleaswallow mod in your Friday Night Funkin? 
You need to download the mod from the official website of GameBanana from the download link given: https://gamebanana.com/skins/190121game 
After downloading the mod zip file, extract it and replace it with the original file in the game's document folder.
Voilà! your new mod is ready to play.