Friday Night Funkin is a 2020 rhythm game that can be played on PC developed by Canadian game developer Cameron Taylor. The whole idea of the game is that the protagonist, The Boyfriend, has to win the hearts of his girlfriend's father and others. He will have to rap/sing with an intention of convincing this whole crew of opposition who are ready to spoil his desires to take his girlfriend on a date.
The gameplay involves controlling the protagonist's rap performance by selecting the correct arrows repeatedly as the song flows by. This ensures the seamless flow of the rap performance and hence increases his chances of winning against his opponent.
One of the biggest plus points and probably the main reason behind this game's rising popularity, is it being an open-source game. This means anyone with a little bit of coding knowledge accompanied by an artistic touch can create a mod acceptable to the players. This is why this game has a vast range of mods with skins and new songs available for its players.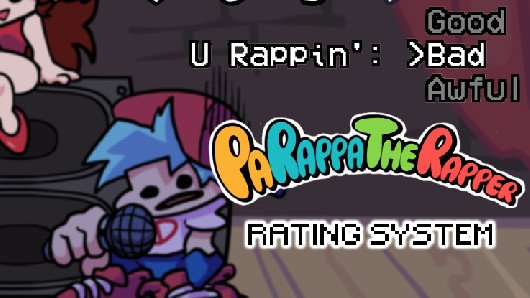 Friday Night Funkin PaRappa Rating System mod replaces the health system  
The basic gameplay and the concept of Friday Night Funkin have always been considered to be influenced by Rock Band, Dance Dance Revolution, and PaRappa the rapper who was popular during the early-mid-2000s. With the application of the mod PaRappa Rating System.
The health bar of the actual game will be completely replaced by the rating system that can be found in the gameplay of PaRappa the rapper. Your performance in the game will determine whether that rating goes up or down. If your rating goes below Awful, you immediately lose the stage. By default, you must complete the stage with a Good rating to win. The song instrumentals change depending on what rating you're on, which is very much similar to  PaRappa games.
You can download this mod by gamebanana  from this link:
PaRappa Rating System mod from Gamebanana: https://gamebanana.com/gamefiles/17224
Mod Credit: doggydentures
Direct Download Link from Game Banana: Download Link