Who doesn't want their favorite characters to get a cameo in some video game? Well, Friday Night Funkin perfectly serves that purpose. Friday Night Funkin is a thriller rhythm-based game. What makes it better than any other rhythm-based game is the fact it induces a sense of enigma in the player. Besides, different mods have been introduced which contain cameos from different animated series, tv shows, and classic games. This is a similar mod – Jotaro Kujo mod.
Synopsis
This game has been made in association with newground. The gameplay is quite simple and interesting. We are introduced as Boyfriend in this game and our sole motive is to woe the heart of our lady love. The game has been divided into different levels or weeks; each week contains a final boss. We have to defeat each of them to finish the game.
The controls are simple too. The player has to click on the arrow keys which are appearing on the screen. On successful click, the player gains a point. The one with more points wins the game.
Jojo's Bizzare adventure mod
Today's mod is for Jojo fans. Gamebanana has introduced yet another mod for Friday Night Funkin. This is based on Jojo's bizzarre adventure. For those who are not aware of what Jojo's bizzare adventure is, here is a small discussion about it.
Jojo's bizzare adventure is a quite popular animated series having 4 seasons till now. This show is about Jojo's family who possesses supernatural powers. They take down enemies in their daily life. This mod introduces the character of Jotaru Kujo in week 7 and we are getting a whole week reserved for Jojo's characters.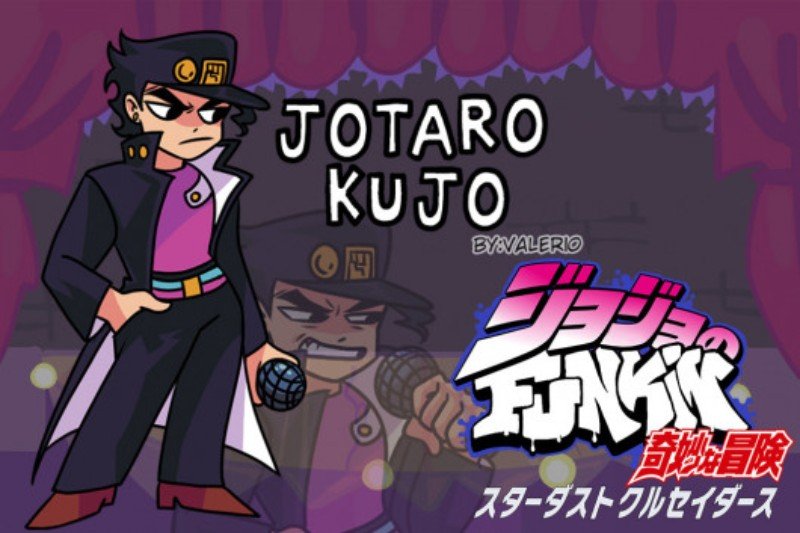 Appearance of Jojo
People who have watched Jojo's bizzare adventure might know that Jotaru is a quiet guy with unbelievable powers. Seeing Jotaru animated as a music star will be interesting to see. In the mod, Jojo is seen wearing his iconic outfit. The black overcoat with yellow-colored designer straps on his shoulders. A black cap with a yellow design and a purple shirt under the coat.
The download link can be found from the link below:
Friday Night Funkin mod (Jotaro mod) from Gamebanana: Download Link
Mod Credit: Valerio_vale1313
Jojo's fans can now enjoy the game even better with the Jotaro Kujo mod. The progression into the mod list does not seem to stop in the near future.