Skid and Pump are back to the party. The mod has been updated to week 5. Read this blog to find more about the Friday Night Funkin (FNF) Skid & Pump mod.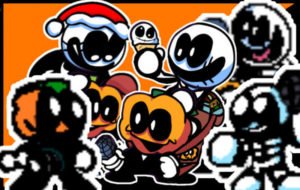 Friday Night Funkin :
Friday Night Funkin is a flash rhythm game developed by Canadian programmer Cameron Taylor also known as Ninja Muffin 99 in OpenFL. It is inspired by Dance Revolution, Rock band, PaRappa the rapper, and many of the New ground and Flash cultures.
In FNF, the player has to take the role of the character "Boyfriend" who must pass multiple "weeks". Each week contains 3 songs. The player has to face a different opponent each week.
Story
The game revolves around the story of "The Boyfriend" who wants to date "The Girlfriend" but is unable to do so because of her father "Daddy Dearest" who is a former rock star and disapproves of the relationship. In order to get his girlfriend, he has to defeat an array of strange and surreal characters in various rap battles.
Gameplay
In this rhythm game, you have to mirror a pattern of notes sung by the opponents. You can do this by pressing the arrow keys or WASD.
You can keep the track of the winning-losing scenario by looking at the bar at the bottom, where red represents the opponent and green represents the player. Whoever dominates and fills the bar completely with his/her color first, wins the battle.
Friday Night Funkin (FNF) Skid & Pump mod
This Skin mod features Skid & Pump. With heavy music, this mod seems to have quite a funky style in it. On the lateral Skin and Pump add a charm to this game. This mod strangely misses the float but it is somehow manageable. There is a Skid and Pump icon but if you like the game version in which every character has an Icon, you can press 9 to avail it. In this mod, you'll find Skid and Pump taking a toll on Daddy Dearest and Mom. Furthermore, the developer has updated this mod to Week 5. So there is a lot more you can find in this updated mod.
So, get on your funky groove and get this party started!
Mod credit: AjTheFunky
Game credit: Ninja_muffin99