Friday night funkin is a story-based rhythm game. It separates itself from the same old generic rhythm-based games for the fact, that it provides thrill and essence of an enigma to the players. What makes it more special is that it provides cameos from several animated series, classic games, and tv shows. The famous character is also included using the Bomberman mod.
Friday Night Funkin Gameplay
The gameplay is simple and straightforward, where we are introduced as Boyfriend in the game. Your main task is to win the heart of your lady love. Each level contains a major villain. The level is divided into weeks which you have to complete before facing off the final boss.
To gain points player has to click on the arrow key which is floating on the screen. The one with more points wins the game. The game continues until the music is playing. The end of the music marks the end of the game. There is a bar on the bottom of the screen which indicates who has more impact over whom in the game. As usual, we are provided with three modes – easy, medium, and hard. The music gets fast in the hard mode. Moreover, the game is amazing with every single element acting as a charm to make it better.
Bomberman mod gets an update
Remember the classic game, Bomberman. Well, if you don't, Bomberman is a classic strategic maze game where players have to defeat the enemies and reach the exit. The maze contains certain booby traps which explode in multiple directions. The Friday night funkin adds 3 more songs directly from the Bomberman franchise. Previously, a few weeks have been offered to Bomberman sprite, where the  character has been given a cameo.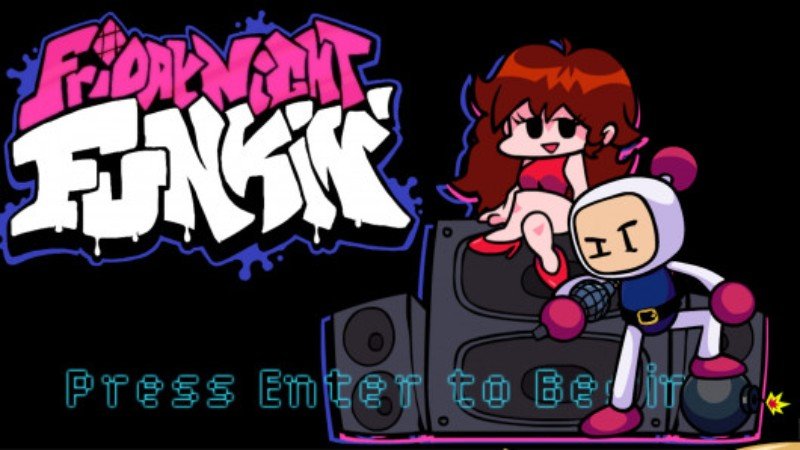 You can find the download link below:
Friday Night Funkin mod (Bomberman mod) from Gamebanana:
Mod Credit: Cerbera
This mod is an additional extension to the previous mod. It feels great to replay with characters who are lost in the abyss of time. The developers have worked tirelessly to enhance the music and add the soothing touch to it.