In the last decade, technology has developed a lot. We can notice a technological innovation in every field, which is making humans' tasks easier. We can see folding smartphones, self-driving cars, 5G networks, smart cities, AI, and what not! We also have gadgets that help us in tracking our health, those are called fitness trackers or smartwatches.
Smartwatches can do things like tracking heartbeat irregularities and measuring blood oxygen saturation, monitoring sleep health, and much more.
When I think of smartwatches the first brand that comes to my mind is Fossil. This year, Fossil released its new Gen 5 series featuring Bluetooth 4.2 LE, NFC, WiFi had the Snapdragon 3100 processor and a bright AMOLED screen. And now in this article, we will talk about an upcoming Fossil smartwatch DW12F1.
A new Fossil smartwatch has received a Bluetooth SIG certification. This new smartwatch comes with the model number "DW12F1". The official certificate of this upcoming smartwatch is added below.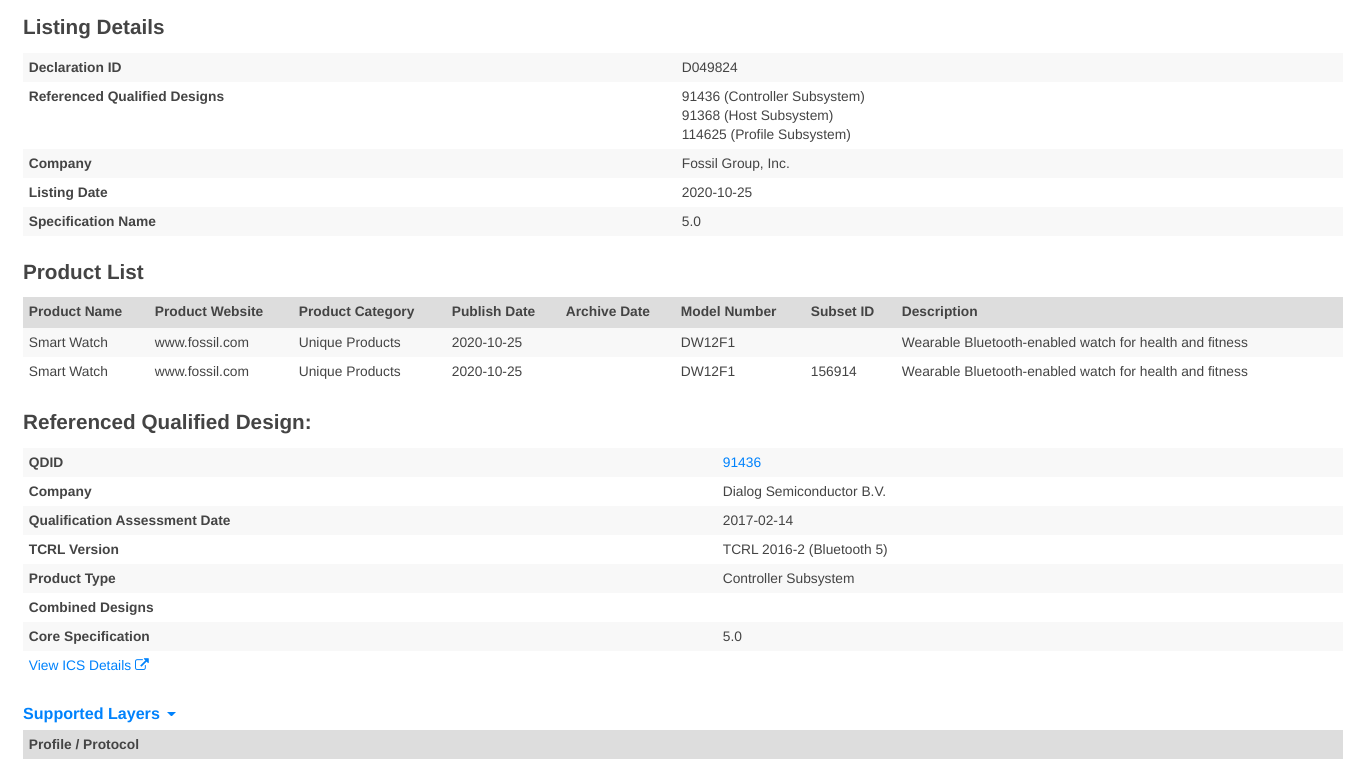 By looking at the certificate you can notice that this smartwatch comes with Bluetooth 5.0 support. This smartwatch is added under the "Unique Products" category with the description as "Wearable Bluetooth-enabled watch for health and fitness". This certificate was published yesterday i.e., October 25th, 2020.
Further in the certificate, we can also see a list of programs and services supported by this upcoming Fossil smartwatch. The full list of these services and profiles is given below.
Alert Notification Profile
Alert Notification Service
Battery Service
Blood Pressure Profile
Blood Pressure Service
Body Composition Service
Bond Management Service
Current Time Service
Cycling Power Profile
Cycling Speed and Cadence Profile
Cycling Speed and Cadence Service
Device Information Service
Find Me Profile
Glucose Profile
Glucose Service
Health Thermometer Profile
Health Thermometer Service
Heart Rate Profile
Heart Rate Service
HID Service
Immediate Alert Service
Link Loss Service
Location and Navigation Profile
Location and Navigation Service
Phone Alert Status Profile
Phone Alert Status Service
Proximity Profile
Reference Time Service
Running Speed and Cadence Profile
Running Speed and Cadence Service
Scan Parameters Profile
Scan Parameters Service
Time Profile
TX Power Service
Weight Scale Service
As this smartwatch is now certified by the Bluetooth SIG website, Fossil should be almost ready to unveil it for the public and may release in a few weeks.
We are continuously tracking reports related to Fossil DW12F1 & will update you with more information whenever it arrives, so stay tuned! Follow our website to get technology updates as soon as we publish them.