Update (07 April 2021)– Two cars are confirmed to be coming with the Series 34 update of Forza Horizon 4.
Porsche 356 Outlaw RSR by Emory Motorsports– It is available for 50% of the Summer Playlist.
1968 Pontiac Firebird– To unlock this car, you need to Complete the Seasonal Championship "Phoenix from the Ashes"
---
Update(05th April 2021)– Forza Horizon 4 will be featuring some rare exclusive cars in the Series 34 Update. They will be available in different seasons and each season will be featuring a different set of cars. Here's the list-
Summer:
NEW Porsche 356 RSR
Rover SD1
Lambo Veneno
Bentley Continental FE
VW Notchback
HSV GTS
'11 Raptor
Autumn:
Backstage Pass
Aston Martin AMR PRO
1988 BMW M5 FE
1994 Toyota Celica
Lambo Centenario
Holden VL Group A
Winter:
Backstage Pass
2019 Aston Martin Superleggera
Mercedes Benz X Class
Mini X Raid
Hoonigan Focus
1969 Mustang
Koenigsegg CCGT
Spring:
2003 Renault Clio
VW IDR
Mini JCW Buggy
Charger Daytona
1966 Porsche Carrera 906
NEW 1968 Pontiac Firebird
Series 33 Bonus Car Rewards:
Backstage Pass
All the info has been taken from this Reddit thread.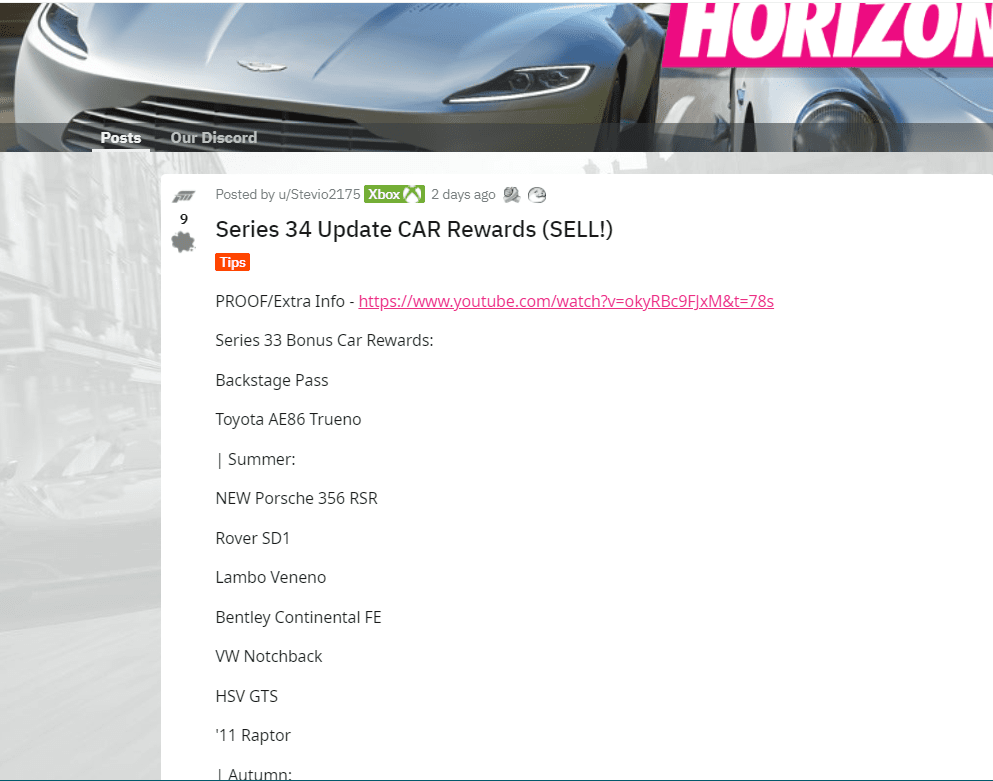 For more info, watch this video by @STEVIO2175.
---
Update(31st March 2021)– Forza Horizon 4 teased 2 new cars along with the release date of their official live stream on twitch for their Series 34 Update. The live stream will be going live at 1730 UTC on 1st April(Thursday).
The latest cars teased are most likely to be a '68 Fire bird' and an 'Emory Outlaw 356'.
3️⃣5️⃣6️⃣🤠🔫
6️⃣8️⃣🔥🐦 #TorbenTuesday pic.twitter.com/6g2dC2UqrG

— Forza Horizon (@ForzaHorizon) March 30, 2021
---
Update(27 march 2021)– 10 New cars are expected to come in Forza Horizon 4. The list of the cars coming in the newest edition of Forza Horizon can be found below
Koenigsegg Gamera
Mercedes-Maybach GLS 600
Toyota Supra MK5
Lamborghini Aventador SVJ
Lamborghini Aventador S
Audi RS7 2020
BMW M8 competition
Porsche 911 Turbo S
Bentley Continental GT 2021
McLaren 765LT
For a detailed insight, watch this video by @MitchCactus.
---
Original Post from March 10 2021 follows below-
With Forza Horizon 4 releasing on Steam recently, Playground Games will be keen on providing new additions to the game with their new Series 34 Update. Here's everything you need to know.
Forza Horizon 4
The series's first released back in 2012, Forza Horizon was a masterpiece. Its unbound popularity among car racing enthusiasts made it a racing giant. Since then, 3 other installments were released under the Forza Horizon Franchise.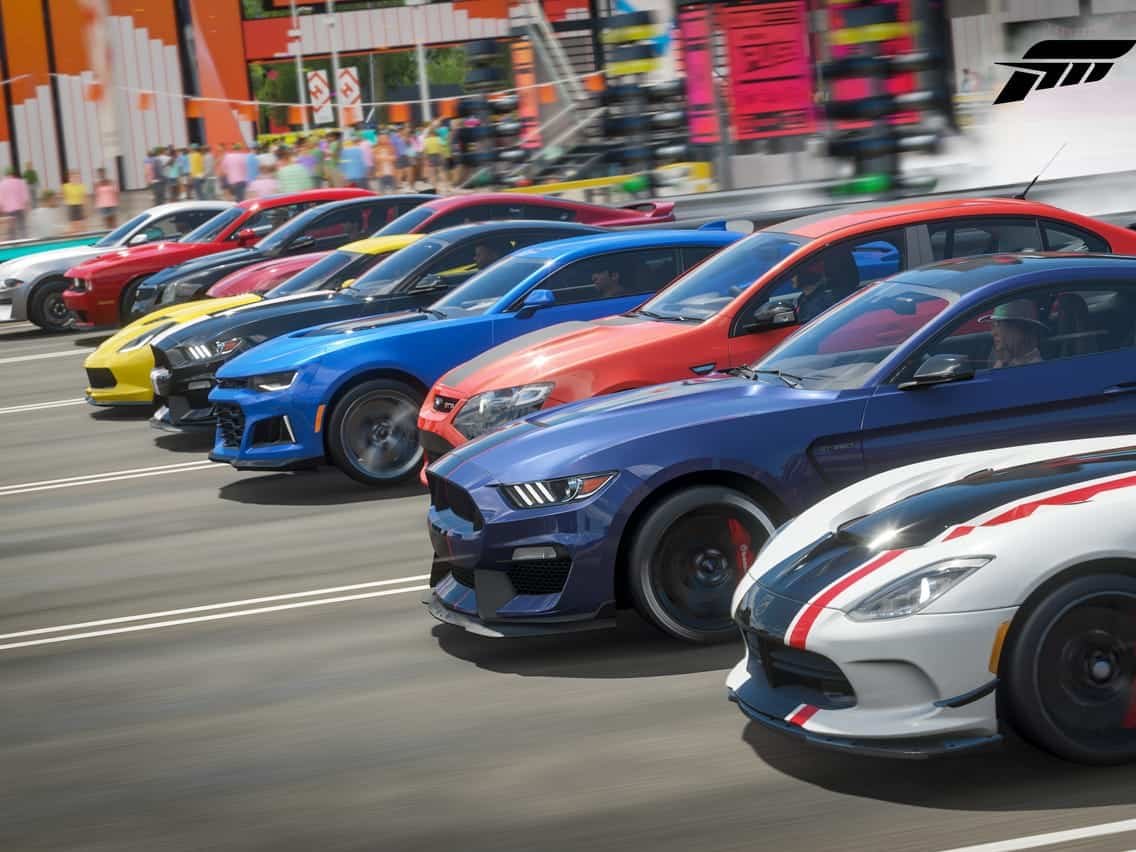 The 2018 released title, Forza Horizon 4 is among the few racing games available in the market that features such detailed graphics and mechanics. Also, with the release of the recent Series 33 update, the game is now available to purchase on Steam. This update was mainly focused to make the game available on Steam. Also, stability improvements were included as well with this update.
But the game still has numerous bugs which can deteriorate the experience it was meant to provide. So, what we can expect in the upcoming Series 34 update is the removal of certain minor bugs in the game.
Series 34 Update-
There are tons of bugs and glitches in Forza Horizon 4 which are listed on the official FH4 Support site. It features all the known bugs that currently reside in-game. However, all these bugs are currently under investigation. Well, looking at the number of bugs listed, it is rather hard to say which update can totally fix all of them. Although, this new Series 34 update might be removing a lot of them.
Also with the Series 33 update, new challenges, and events were added so we expect that the upcoming Series 34 Update will be bringing in additional challenges to promote engaging gameplay.
Series 34 Update- Cars
The Series 33 update featured two new cars- Raesr Tachyon Speed and Peugeot 207 S2000. Well, for update Series 34, there is no info on what cars will be coming to the game. But we will be updating you, once the news arrives.
Series 34 Update- Release Date
As per the schedule, each major update is released about a month later than the current one. So, it is expected that the upcoming Season 34 Update will be released in April 2021 since the current Series 33 update was released on 9 March 2021.