About Fortnite – Fortnite is an online video game developed by Epic Games. The game was released in 2017 and since then it has won various awards including Best Multiplayer Game at The Game Awards 2018 and Best Ongoing Game at The Game Awards 2019.
Recently, a leaker on Twitter claimed that he has found the Fortnite update v11.40 patch files and also mentioned that the new Fortnite will roll out officially soon.
According to the leaker, the Fortnite upcoming version that is, v11.40 has already been added Epic's staging servers. And the testing of the build has begun
The leaker also shared the screenshot of the file, which shows the "build," "moduleName," "buildDate," "version," and "branch."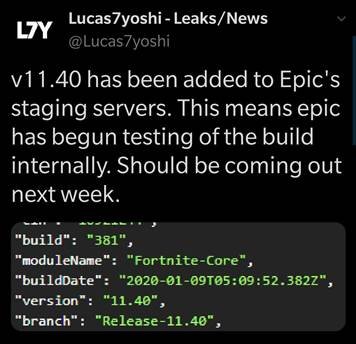 In the image above we can clearly see the version of the patch, that is, v11.40 and the build date which is January 9, 2020. Well, there is no mention of the release of the new patch, but the leaker claimed that the patch will be available next week.
So, this is all about the leaked details about the Fortnite update v11.40 patch. But, take all of this as a pinch of salt as this is not the official announcement. Epic Games has not mentioned anything about the new update yet. 
Stay tuned! As we will update this post with the latest leaks and updates.