Fortnite is one of the most popular battle royale games. The game has three distinct mode, but players play the battle royale more. Its battle royale mode is free-to-play where 100 players pit into a map to fight to be the last one standing.
Around 125 million players played the game in its first year of the run beating all other battle royale titles. It is revamped with a new map in chapter 2 season 1 and currently, the Winterfest event is live in the game where a snowstorm has breached the map.
Coming to the topic, a new patch for the game has gone live. The latest update to the game has arrived with version 12.21. It has brought a lot of enhancements & bug fixes to the game.
While looking in the game code files of the update 12.21, data miners have revealed some new challenges which will become part of the game soon. These new challenges are called Awaken Oro challenges. Have a look at the list of challenges down below.
Awaken Oro Challenges
Assist teammates with Eliminations – 100000 XP
Play a game with a friend – 100000 XP
Deal damage to opponents – 100000 XP
Collect medals – 100000 XP
Complete ALL CHALLENGES to earn the reward item
Complete ANY 2 CHALLENGES to earn the reward item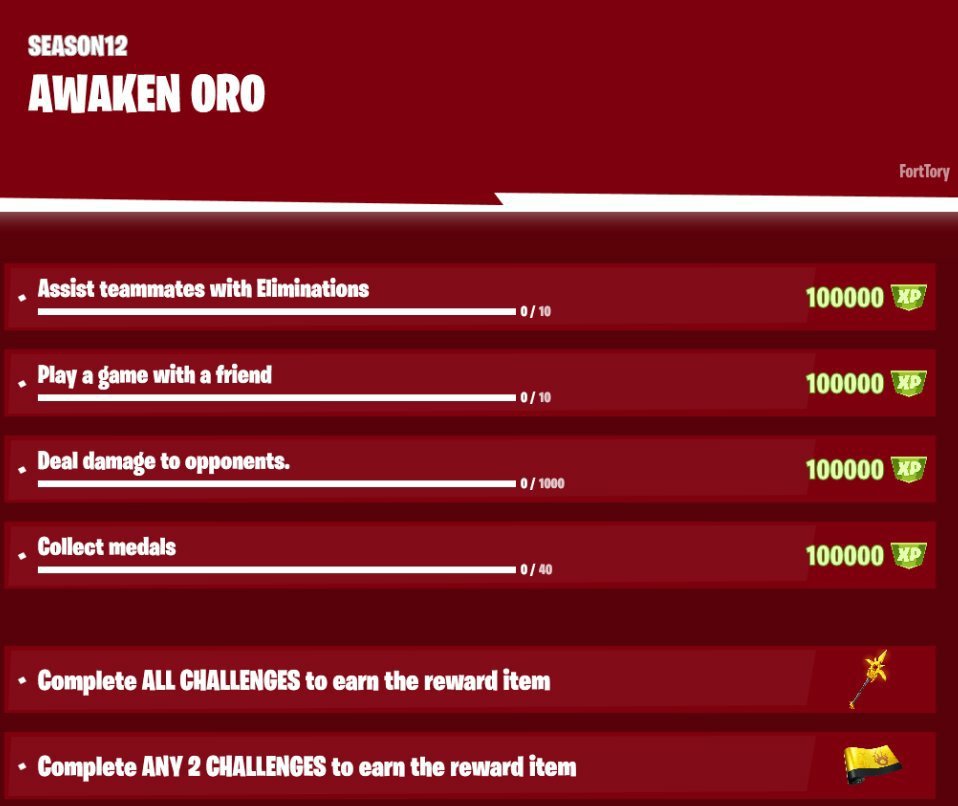 Well, there is no clear date when these challenges will go live in the game. Fortnite update 12.21 has also brought a slew of bug fixes to the game which you can check down below.
Tournament scores are visually incorrect in Lobby and in-match.
Party Assist for Missions temporarily unavailable.
Unintentional Carry or Shakedown on controller.
In Split Screen, game freezes when leaving party.
Meowscles' "Survive a fall" Challenge not always tracking progress.
"Use Legacy Look Controls" will be removed from game.
Difficulty picking up items with the Use button.
Hit Indicators show wrong direction.
Buildings and structures may appear low detail.