As you might know, many OEMs these days are working on their upcoming iterations of Custom OS. These will come with the upcoming Android 11. Xiaomi has even rolled out the MIUI 12 Beta to its devices. In case you don't know, there's this amazing Custom OS called Flyme OS. Chinese electronic consumer company Meizu uses Flyme OS in its devices. Flyme OS is one of the most popular Custom OS in China. It offers tons of cool features and a stunning minimal user interface. It feels great to use, and all its features come in handy. Now, it seems like Meizu is now gearing to launch its latest version of Flyme OS very soon.
Flyme OS 8.1 coming soon:
Flyme OS is a custom OS based on Android developed by Meizu for its devices. Currently, Flyme 8 is the latest iteration to Flyme OS that is based on Android 9 Pie. The Flyme OS provides a minimal and elegant user interface that feels good to use and also comes with a lot of amazing features. Flyme OS can easily compete with custom OS from top brands like MIUI and many more. Flyme OS has many smart features like AI beautification, smart hearing protection, and smooth animations, and a lot more.
Meizu has finally revealed that it will soon be releasing the Flyme 8.1. While the naming might not make it seem like a major update, it indeed is a major OS update. Flyme 8.1 brings home Android 10 to Meizu devices. That's true. Meizu is finally bringing Android 10 to its devices with the latest Flyme OS 8.1. After a long wait, users will finally be getting Android 10. As per the official announcement by Meizu, Flyme OS 8.1 will be revealed alongside the launch of the most awaited Meizu 17 series. Yes, that's right. There have been rumors about the Meizu 17 series for months now and the device is finally here. It will be the first to have Flyme OS 8.1 based on Android 10.
Features: What's new?
Flyme OS is one of the most feature-packed custom OS. It comes with a huge list of features alongside a great UI and beautiful designs. So, it's pretty much certain that the latest Flyme OS 8.1 will come with yet more amazing features. One of the main highlights is the native Dark Mode provided by the stock Android 10. Well, Dark Mode has become a heartthrob among smartphone users these days. Talking about Dark Mode, Meizu does it like a pro. Meizu calls it Night Mode and it has been there since Flyme 7.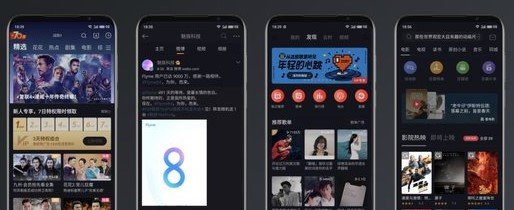 Flyme OS 8 brought a better and improved Night Mode 2.0 with system-wide dark mode capabilities and a lot more tweaks. Flyme OS 8.1 will come with the stock Android 10 Dark Mode with further tweaks to make it even better than Night Mode 2.0. Not just the Dark Mode, Flyme 8.1 brings home a lot of other cool and interesting features. The list is pretty huge for sure. However, as os now, we have not seen much of it. People are pretty excited to get their hands on the latest Flyme OS 8.1 as soon as it arrives.
Flyme OS 8.1 Release Date:
In a recent teaser by the OEM in Weibo, they have officially revealed the release date of the Flyme OS 8.1. Flyme OS 8.1 will be officially revealed on 8 May 2020 alongside the launch of the upcoming Meizu 17 series smartphones.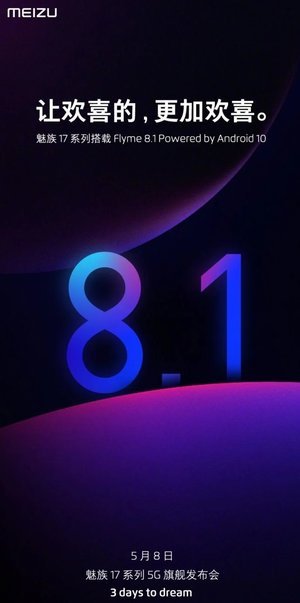 These devices will be the first to come with this latest iteration of Flyme OS based on Android 10. It seems pretty certain that Meizu will also reveal the official update roadmap for its device on the launch event itself. Just 3 more days to go!! Until then, keep waiting.
So, let's see what all new features Flyme OS 8.1 will bring and how these new Meizu 17 series devices will perform in the market.
Stay tuned for further updates on Flyme OS 8.1 and more such related content. Also, share this article with all those people who have been waiting for the Android 10 based update on their Meizu devices.