When it comes to Football video games, EA FIFA is one of the most prominent names that are currently available on the market. THE first EA FIFA game was released in 1993, and after a successful run of so many years, FIFA Mobile was launched in 2016.
Coming to the topic, a new update has gone live for FIFA mobile and the latest update to the game has brought a lot of enhancements & bug fixes to the game. After a long wait, ranks have finally made their way to the game. Developers have also unlocked the ability to acquire & level players past 100 OVR. Details regarding the Hazard event have also been shared in the today patch notes which you can check below.
Going Beyond 100 OVR
Going over 100 is a big deal. A REALLY big deal. To commemorate the occasion, we are coming out with a brand new event that will allow you to get one of the biggest names in Football, Eden Hazard by playing FIFA Mobile! It also includes new avenues to play the game and acquire Rank Shards. But first, what does going beyond 100 OVR mean for you?
First off, you will be able to acquire players beyond 100 OVR, including 104 OVR Eden Hazard! But the ability to go beyond doesn't end there. As events launch, we will also be pushing your ability to level your players beyond 100 OVR! As of the Hazard Event launch, you will now be able to level any of your players to 101 OVR! No other in-game unlock requirements are necessary! Acquire players, form your Ultimate Team, and level them all up to 101 OVR starting NOW!
Hazard Event
With such a big change, we also want to bring an event that would add new avenues to reach new heights for our players. The Hazard Event is a new way for players to play the game each day, featuring a Daily Warm-up section. Every day, come in and earn some extra bonus rewards by playing 3 drills and 2 matches, then claim some Hazard Points & Rank Shards! If you complete all your Daily Warm-ups for a week, you can claim even more Hazard Points & Rank Shards! Miss a day? No worries! All progress will carry forward so you can complete the tasks at your leisure without missing out on too many rewards.
Hazard Points
To use your Hazard Points, head on into the "HAZARD" chapter in the event. There you can see a large pyramid, where you can work your way up to the top and eventually claim Hazard! Start from the bottom, spending 20 Hazard Points at a time to claim extra rewards such as Rank Shards, Coins, Skill Boosts, Training XP and other Players. As you move through, unlock additional rows by earning Hazard Keys. Hazard Keys can be earned in other events that are released in the game, such as in the Easter Event launching simultaneously. They are also not spent as you move up, but rather collected to unlock more of the pyramid over time. But as it is a pyramid, you will need more than just the keys to unlock the nodes! For every node in the pyramid, you'll also need to complete the 2 directly beneath it in order to move up.
Lineup Challenges
As an extra opportunity to earn Hazard Points & Rank Shards faster, there are some Lineup Challenges available. These challenges require building an Active Lineup of players from the same nation or league to fulfill the conditions shown in game. All players must in the lineup meet a minimum OVR to play the various matches. After beating all the matches with your lineup, you'll have the option to use them in an SBC for even more Rank Shards & Hazard Points.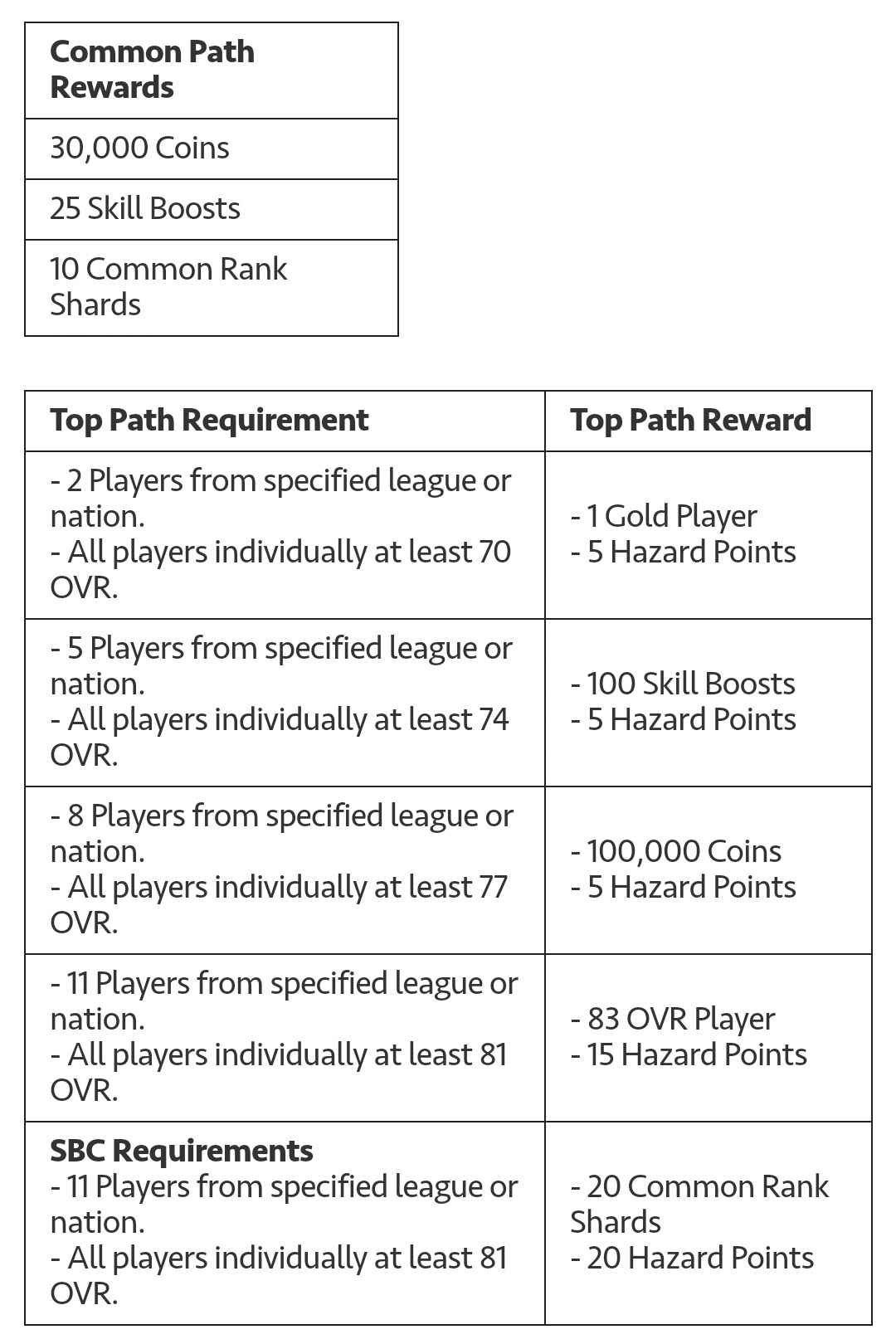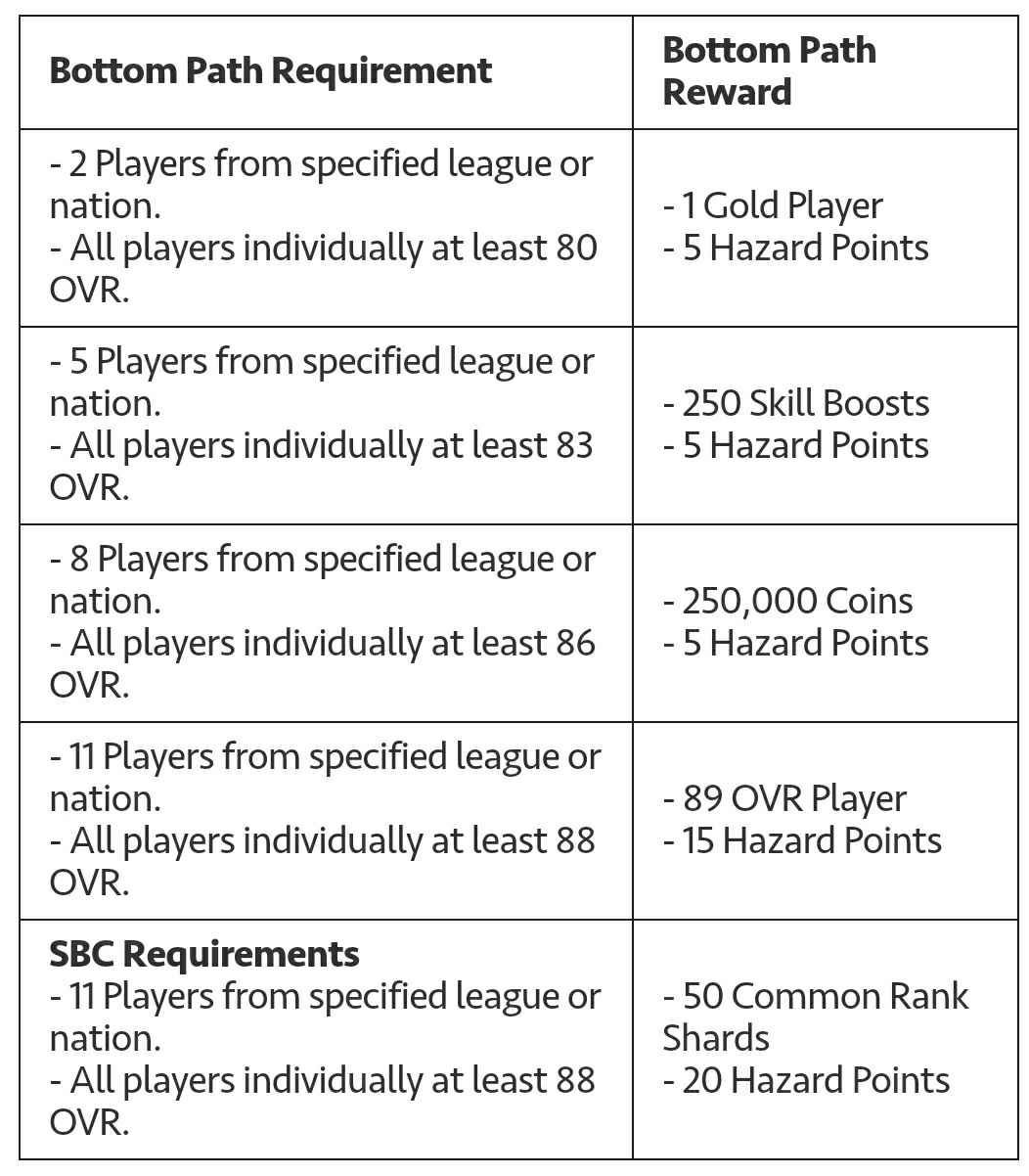 Extra Match Win Conditions
Another element we've been working on is creating new ways to be able to play Matches! With Hazard and Easter, we're introducing extra match Win Conditions. To complete a match using these new win conditions, you'll need to both win the match and complete any conditions indicated! These can range anywhere from requiring a certain amount of passes completed, tackles completed, preventing a number of goals being scored on you, or scoring goals with specific players, and more! Look out for them in upcoming matches, as you may need to play them in a certain way in order to get the win!
Rank Ups
Rank Ups were hinted at in our March Update, but they're finally here! Throughout upcoming Events and especially in the Hazard Event, you can now earn Rank Shards. These are used in combination with consuming a separate player and a coin cost to Rank Up a player! Now, when accessing the Player Training area for a specific player, you will see the "Rank Up" and "Rank Transfer" sections. You can access the Rank Up section once a player is 80 OVR and start earning Ranks!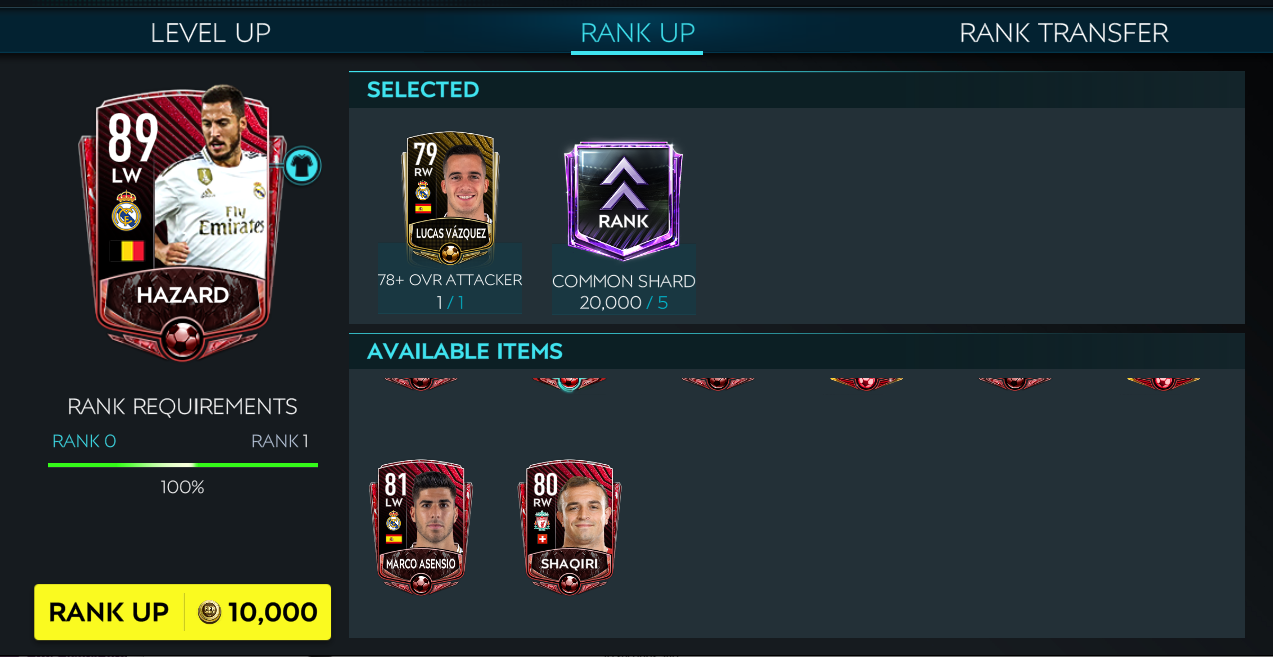 The reason you want to Rank Up as many of your players in your Ultimate Team as possible is to get a higher Team OVR! With every 5 Ranks that you have on your team, you earn 1 Team OVR! You can tap your OVR badge in the My Team screen to check out how close you are to getting your next OVR from Ranks!
Here's a breakdown of some of the Rank Up costs. There are more beyond the ones shown here!
NOTE: Using a Player in a Rank Up recipe will REMOVE that player from your account. Only use players for Rank Ups that you no longer want.
Rank Transfer
New this year is the ability to easily Transfer Ranks between players! Now, you can transfer Ranks from one player to another, without losing the player! When doing a Rank Transfer, you'll spend the difference in Coins between the player you are transferring to and the player you are transferring from. After that, the Ranks are removed from the higher-ranked player and placed onto your designated player. The player that lost their ranks are then added back to your account in whatever state they were in before ranks! Including levelled OVR!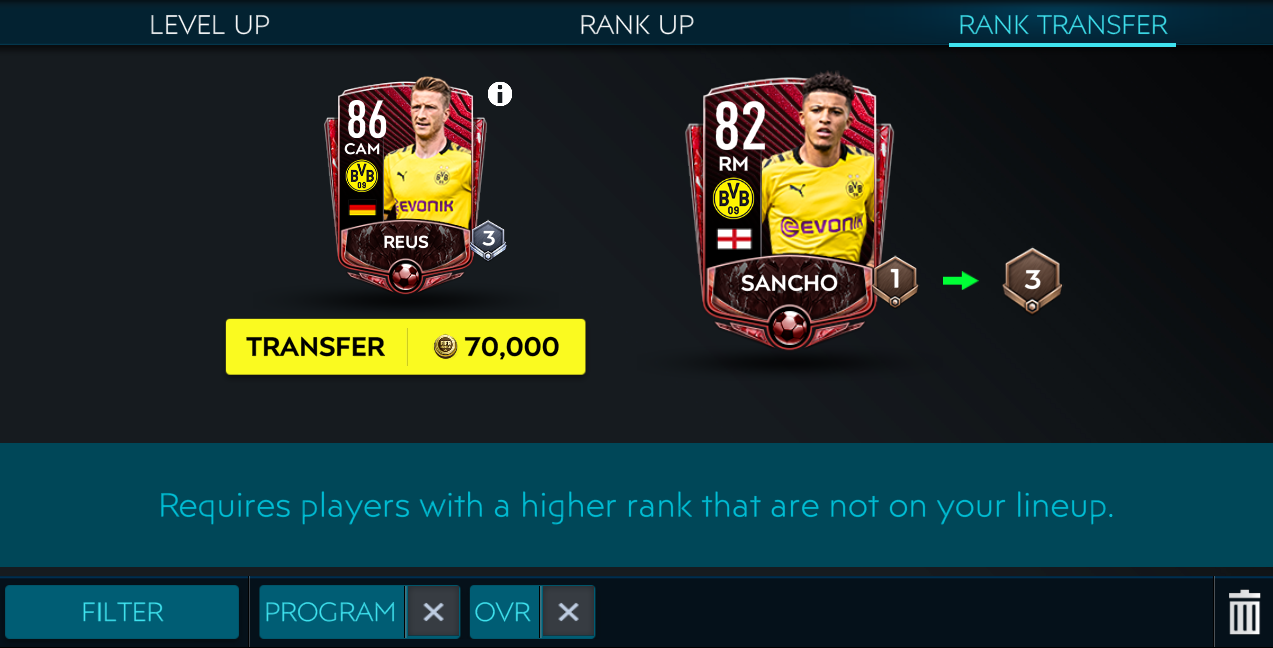 With all these new ways to improve your Ultimate Team, we hope to see you in-game reaching all new never before reached heights! See you on the pitch!