FIFA 20 is the most popular football simulation video game of the FIFA franchise, which was published by Electronic Arts. It's 27th instalment in the FIFA series and was released on 27 September 2019 for Microsoft Windows, PlayStation 4, Xbox One, and Nintendo Switch.
Recently, a lot of FIFA 20 fans have been complaining about an issue in the game which is impacting Weekend League Rewards.
Today, the Twitter handle of EA Help addressed this issue officially and said that FIFA team was working on the Weekend League Reward issue that players had reported.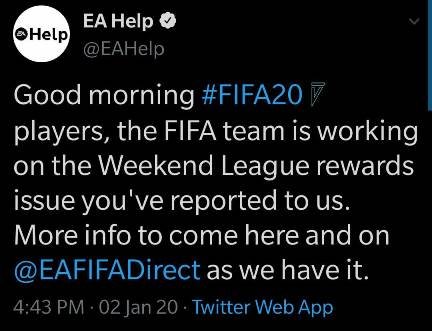 According to the official statement, the developer team is working to fix this bug that is creating trouble with Weekend League Rewards. And not only this, the developers will be rolling out the fix to this issue with an update very soon.
---
UPDATE – January 2
Earlier we talked about the bug which impacted the Weekend League Rewards in FIFA 20. Well, EA promised to fix the issue with an update. But, FIFA players are still facing the same problem.
Also, another problem has been detected too. FIFA 20 players are not able to use Player Picks feature.
But, according to the official statement, Player Picks have been disabled for a temporary period. And, the official tweet also stated that the feature will be re-enabled later. For now, the developer team of FIFA 20 is working on a fix for the Weekend League Reward issue.
---
---
UPDATE – January 3
According to today's official statement by team FIFA 20. The developer team has started to resolve Player Picks for Weekend League Rewards which contained incorrect items.
EA also mentioned that the players can expect to get the correct items in Player Picks rewards within 2 days.
---
Official Update – January 3
EA officially tweeted about the Player Pick reward issue and mentioned, "We've started sending out new Player Pick rewards to everyone who the wrong Player Pick items yesterday. It'll take up to 48hours for us to get them all out. We're sorry for the mix-up and for the time it's taking us to make it right."
---
Official Update 2 – January 3
It looks that the developer team of FIFA 20 has managed to fix the issue with Player Pick Rewards.
EA officially stated, "The Player Pick Rewards rollout has been completed earlier today. You should see an in-game message when logging into FUT and the items can be found in your main menu."
Well, if you are still facing any issues, let us know in the comments section below.