The latest FUT Champions rewards batch has left many FIFA 20 players in bewilderment because of a reported bug in this week's rewards. Players are furious over this situation, waiting for a solution from the developers.
In the FUT mode in FIFA 20, players take part in online matches in the Champions Weekend League that lasts for 3 days, starting from Friday to Monday. At the end, rewards are announced on Thursday 9am based on player's performance. Players gain rank which goes all the way from Bronze tier to Elite then top 100 and they are rewarded based on their tier. These rewards include coins, player packs and FUT champions points.
For the last week's FUT Champions League, players received their rewards today as expected, but it turns out that the rewards they received were not up to the mark. It turns out that the red player picks have been affected. Players were expecting to see Turkish Super League Team Of The Season So Far ( TOTSSF ) players included in their rewards, with higher rankers expecting La Liga TOTSSF picks, but that did not happen.
Players were shocked to see that they hadn't been rewarded correctly. This happened to players with Gold 2 and above and since the morning EA's social media accounts have been flooded with angry fans asking for an explanation. Many players tweeted out that they were in Gold 2 ranking and expected higher rewards but didn't get what they deserve.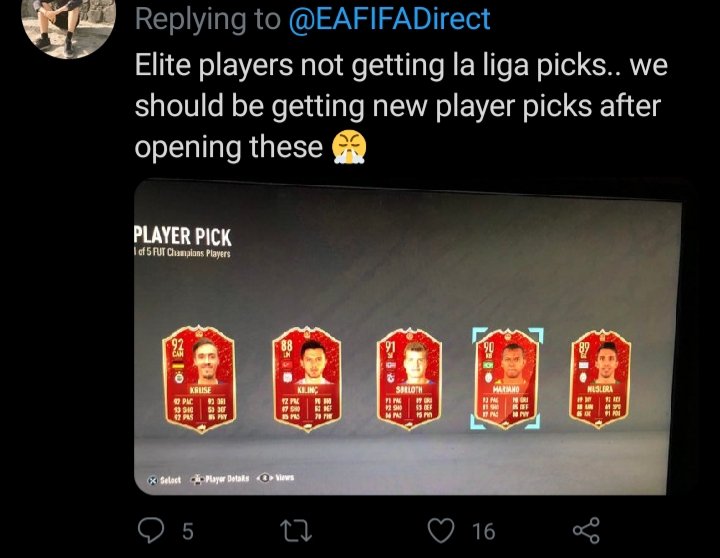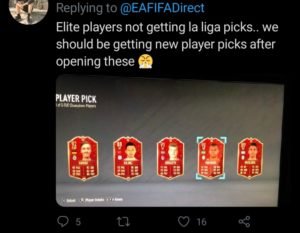 EA addressed this issue in a recent tweet and confirmed the presence of a bug and said that they are working on it to find a solution. For now, they have disabled the unclaimed rewards.
It has also been reported that not everyone is undergoing the effects of this bug, as some top tier players did receive the rewards which they deserved based on their rankings. But so far, mostly the tweets from negatively affected people have seen a rise.
There have been problem in the past with EA Sports Weekend League rewards and the issue that was brought up today is just another example of it. Fans are hoping for a solution and compensation as nobody wants their grinding to go to waste.