As all professional football has stopped due to the ongoing COVID-19 pandemic, I bet a lot of professional players are relying on FIFA as well. EA also holds the tradition for releasing FUT birthday team every year and this time wasn't any different. So if you are lucky enough, you can find all sets of cards.
FUT birthday has been a celebration of sorts for the Ultimate Team, a long-standing game mode released back in FIFA 2009. With FIFA 20, it makes 11 years for Ultimate Team and it has gained some lauding over the years. There have been few glitches and annoyances but nothing too big to disrupt the set precedent. EA released the FUT birthday team just yesterday and is available to be grabbed now.
Team 1 contains 15 cards with massive upgrades, not just to stats but to player's weak foot and abilities as well. We can expect another list soon enough for Team 2.
The list contains players from Real Madrid, Barcelona, Manchester United, Manchester City, Bayern Munich and PSG.
Here is the complete list:
Mbappe (94) – five-star weak foot
Hazard (94) – five-star skill moves
Griezmann (92) – five-star WF
Rashford (90) – five-star WF
Haverts (90) – five-star WF
Muniain (89) – five-star WF
Sissoko (88) – five-star WF
Saint-Maximin (88) – five-star WF
Hernandez (88) – five-star SM
Cancelo (87) – five-star SM & four-star WF
Guerreiro (87) – five-star WF
Lozano (87) – five-star SM & four-star WF
Djene (87) – five-star SM
Correa (86) – five-star SM
Gaitan (85) – five-star WF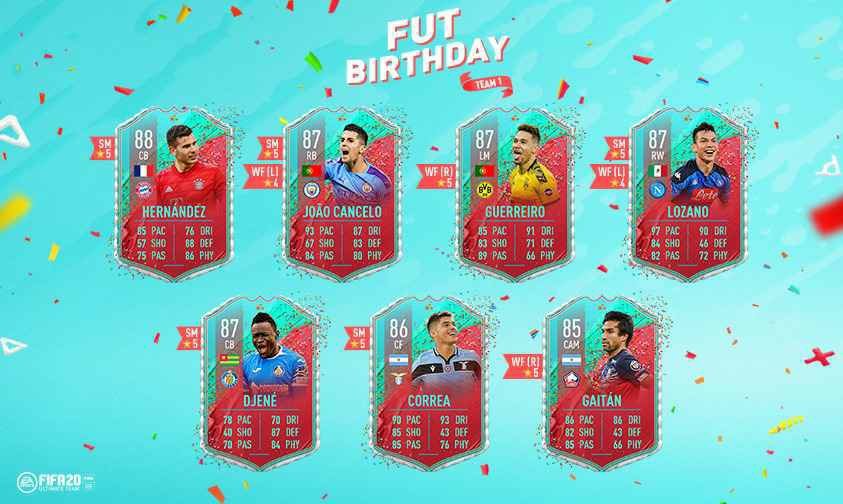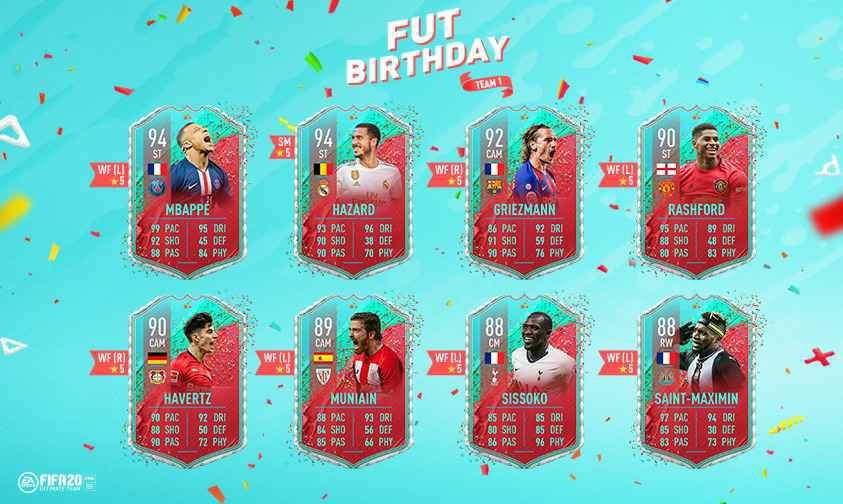 FUT Birthday Objectives
Some other updates have also arrived in the Ultimate Team besides the Card Pack. A squad building challenge allows you to get a 90-rated Mesut Ozil. Also, there are special objectives that once completed can grant you boosted Bellarabi and Paqueta cards.
April 3rd will be the drop of the Team 2. What was shocking was no inclusion of any Liverpool players in the card pack. The team has been on top of the Premier League table all season with excellent performances from a star-studded squad. Let's see the players that arrive with Team 2. Enjoy and Happy Gaming!