The EIP Card or Economic Impact Payment Card contains the money that you receive under the American Rescue Plan Act of 2021, COVID-related Tax Relief Act of 2020, or the Coronavirus Aid, Relief and Economic Security Act (CARES Act). EIP Card is sponsored by the U.S. Department of the Treasury's Bureau of the Fiscal Service as a part of the US Debit Card Program. After you received the card, activate it and then you can start to use it. Read the Cardholder Agreement and Fee Schedule. Then activate the EIP Card account and set the 4-digit PIN.
You can get your balance by calling 1-800-240-8100. You must sign at the back of your EIP Card and keep it in a safe place. You can shop in those places where Visa Debit Cards are accepted. This includes online as well as offline stores. You can also use it by phone for paying bills. You will get cash surcharge-free at any in-network ATM. The purchases are covered by Visa's Zero Liability Policy so you can have peace of mind while shopping.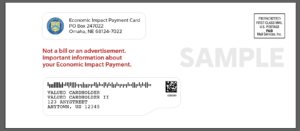 But users have recently experienced an issue with this card. They have experienced an error that has been named the Invalid Account Status error. Users said that when they try to transfer their balance to their bank through the EIP website, they keep getting and 'Invalid Account Status' error message. A user said that he faced the issue while making online payments. The user further added that the error popped up sometimes in between the payment when the process was about to complete. A few others have also said that they were not able to check their account balance because of this error.
Now, the question is how to solve this issue. Remember that this problem can occur for two reasons. Firstly, you might have not set up a PIN. Secondly, the site might be glitchy. Users have reported that they press submit several times and it goes through at a point in time. But the waiting time can really irritate you a lot. Let me tell you that if you experience this error, all you need to do is ensure that your card is active. You have to activate the card at first like the process mentioned above. Just call at 1-800-240-8100, set up the PIN and the error will not appear again.