The COVID-19 pandemic has led to a lot of changes in the world of tech. Also, streaming apps have completely restricted their stream quality. The reason behind this huge step is that the lockdown in countries, mainly in India, has led to the pressure on internet connectivity. The usage of the internet has been drastically increased duration-wise as well as quality expectancy. Most of the apps have restricted video quality to 480p, including YouTube. YouTube is the most used video streaming platform because it is absolutely free. The quality restriction has led a lot of fans to dissatisfaction.
NewPipe is an unofficial and ad-free YouTube client that helps stream YouTube videos in higher resolution, regardless of the restrictions. Before proceeding to the download process, check the features of NewPipe.
NewPipe Features-
As mentioned above, the most important feature of NewPipe is that the app works regardless of the restriction put by the official app. As you can see in the image given below, YouTube videos can be streamed above 480p; in fact with a lot of options that are not common is apps.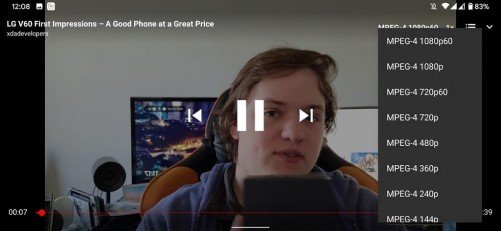 NewPipe requires no login or sign up. In fact, you will not even need a google account to set up this app. You can easily subscribe to the content creators you desire to be notified when they post, but no login or setup is required (in fact, there is no login button or anything of that sort inside the app).
You might have a question that simply using a VPN can avail of this feature in the official YouTube app. You need to know that using a VPN will cost a lot of data that you might end up paying for at the end of the day unless you have a paid version of a VPN that limits data usage. But NewPipe works on Android smartphones that don't even have Google Mobile services and doesn't really impact any different from the regular data charges.
Download NewPipe-
The installation is very simple. Just click the link below, avail permissions and install the app just like any other apk file.
---
---
Rest assured, stay tuned for related articles and more updates frequently. Also, share this article with all those who will find this app helpful!